Simple palates, Seriously
The South Australian Riesling Class of 2010
Brian Barry Jud's Hill Riesling 2010, Clare Valley, SA
Brian Barry OAM is a renown veteran of the SA wine circuit having done the yards as Jimmy Watson winning winemaker and as a respected wine judge. Nowadays, the wine making responsibilities lie with his son, Judson, after who this label has been named. Clear, pale lemon colour. Clean, youthful nose of sweet lemon citrus sugar, lemon slate and a hint of curry leaf. Dry, medium-bodied wine with 12.5% alc and med+ acidity. A soothing, broad mouth feel, flavours of lemon, hints of orange citrus and honeydew. A nice finish but the fruit drops off a little too quick in the lower front palate. Only $11 from getwinesdirect, worth getting a 6-pack. Drink now - 2015. 91/100.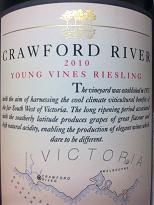 Crawford River Young Vines Riesling 2010, VIC


$26. Pale yellow-gold colour with clean young floral aromas of concentrated lime juice, crushed lime leaf and a smattering of minerality. High acidity, 13.5% alc, rich lively lemon and lime flavours dart about the mouth with a hint of lemon pith on the end. Long fruity finish. Drink now. 88-89/100.
Dan Eggleton's Yet-To-Be-Named Riesling 2010




Clear pale lemon gold colour with fine legs. Clean youthful aromas of lemon, lemon rind and crushed slate rock, twist of lime citrus. Dry, full-bodied wine with high acidity. Intense flavours of lemon, lemon pith and ripe lime juice on the tip of the tongue, waxy texture on the mid-palate with a finish of grapefruit. Easy fruity finish. Drink now - 2022+. 92+/100.



Grosset Off-dry 2010 Watervale Riesling, Clare Valley


Clear pale lemon colour with youthful aromas of crushed chalk, limestone and lime rind. This has rich, fresh steely lime flavours with streaks of passionfruit and sweet grassy lemon candy. At 11.5% alc this is very much the younger sister of the more serious Watervale and Polish Hill rieslings but still reflects the excellent vintage conditions of the 2010 vintage in SA. A thoroughly enjoyable semi-sweet wine that is rather unlike similar German offerings. Drink now - 2016. 89-90/100.


Grosset Polish Hill Riesling 2010, Clare Valley, SA
Langton's 2010 Exceptional category. The 30th vintage of this stellar label. A step-up from the Springvale. No, this is in fact a completely different picture. This is a connoisseur's Riesling. An elegant, restrained nose of honeydew candy, sweet lemon aromas, lime blossom, hints of river pebbles in cold streams. High acidity with clean pure lime-lemon fruit, a sensation of lemon peel on the dryish finish that retains rich fruit and a long aftertaste. Enjoy now, why wait, but if you must probably up to 2025. 94-95/100.
Grosset Springvale Riesling 2010, Clare Valley, SA
Langton's 2010 Outstanding category. The 30th consecutive vintage of this label. Pale grass colour, lovely sweet aromas of honeydew, lemon and lime blossom. Youthful and spritely palate with (oddly?) almost grassy characteristics, zippy lime flavours with a slate of minerality on the bone-dry finish. A precision crafted Riesling, with a rich, long aftertaste. Brilliant! Drink NOW NOW NOW. 92+/100.
Karra Yerta Wines Riesling 2010, Eden Valley


Very pale green lemon colour, sweet lemon-lime aromas, akin to sweet German rieslings, with a splash of wet granite powder. Lovely plush fruity body, a burst of lemon citrus pips and granite chips flavours with a trailing minerality to finish. Crisp acidity but this wine is still coming together structure-wise. Drink 2011 - 2012+. 92/100. Tasted Aug 2010.
Knappstein Riesling 2010, Clare Valley, SA


$19 from King & Godfrey on Lygon St. Pale lemon colour with a green tinge. Youthful aromas of musky lemon talc, hint of passionfruit. Dry, medium-bodied wine with a zip to the body. High acidity with rich, ripe lime citrus overtones on green apple flavours. Good fruity finish. Drink now. 89/100.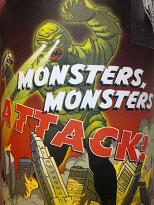 Monsters Attack by Some Young Punks Riesling 2010, Clare Valley


$24. Pale colour with clean fresh aromas of lemon fruit. Lovely ripe fruity flavours with a hint of pineapple juice even. A somewhat short but clean finish. Great accompaniment for a picnic of cucumber, egg and tuna sandwiches. Drink now. 87-88/100.
Rieslingfreak No.3 2010, Clare Valley, SA
$25 direct from John Hughes. Clear pale lemon colour with fine legs. A blast of clean, intense and youthful aromas of cold lime talc, crushed limestone slate rock, kaffir lime leaf and rind, hint of sesame seed in the back. Dry, full-bodied wine with 12% alc and an initial rich, ripe lime citrus then lemon pith and sugars kick in. An easy long finish as the fruity flavours fade out. Pure riesling. Drink now - 2025+. 94/100.
Stone Bridge Wines Riesling 2010, Clare Valley, SA


Very pale gold with green tinge. A noseful of green lime spritz and waxy lemon rind aromas. This is a dry, full-bodied wine that is drinking well now. It has a high level of lemon acidity on the back palate, 12.2% alc, the lime citrus and lemon rind flavours provide a good mouthful. Drink now - 2015+. 89/100.
Torzi Matthews Riesling 2010, Eden Valley, SA
Pale lemon colour, with youthful nose of clean steely lemon, crushed calcium carbonate rock, pineapple juice and a hint of flint. Intensely flavoured wine with high acidity. Amazing rich, ripe lemon pulp and lime acidity, with linger ripe pineapple. Long finish. If you're looking for a riesling with the pomp and circumstance of the Austrian royal courts in summer, well this is it! An aristocratic structure, well-balanced and kept in check by the men-in-waiting. Drink now - 2013, then keep till 2020 before finishing it off. 94/100.
Wirra Wirra The Lost Watch Hand-picked Riesling 2010, Adelaide Hills, SA


Pale lemon colour, youthful aromas of orange blossom and lemon slate powder. Dry, medium-bodied wine, 13%alc, with rich orange citrus flavours and waxy kaffir lime leaves on the finish. Long fruity finish. Drink now. 90/100.
This is my site where I show off that I do in the scant abundance of spare time that I have back in my apartment. The views expressed on this page are exclusively my own, unless otherwise stated. An offence caused is regretted, and will be retracted if, after discussion, is deemed reasonable. If you want to pass any snide comments or insults, bring it on!