Sweetness in a Pod!
Huddled around two tables like peas in a glass pod on a mild Melbourne evening, it was very enjoyable to be in attendance of Xavier Planty, part owner of the classic Sauternes First Growth Château Guiraud (est. 1855). Xavier's first full vintage in charge was in 1984, but he started to make his mark in 1983 when he started replating the vineyards into a high density structure. A change in winemaking style soon followed. Tank fermentation was halted in 1988 with a switch back to fermentation in oak and by 2005, all fermentation was carried out in new oak. The only exception of the use of new oak prior to 2005 was in 2000 (though not by choice). A word of warning: based on current market forces, the cost of a new oak barrel will probably exceed the current price of €600 soon, and that increase in cost is bound to be transferred to the consumer.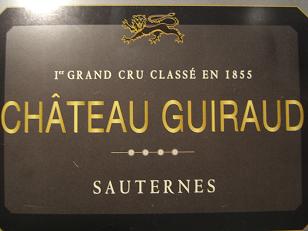 The château's annual production is about 100,000 bottles from 85ha of 35-40 year old semillon and sauvignon blanc (85% Guiraud, 15% Bordeaux Blanc 'Le Dauphin de Guiraud'). There is a marked difference in the pruning strategy for the vines. The semillon is grown in a fan 'à cots' while the sauvignon blanc is tweaked into long branches for maximal sun exposure. You can do the math: at 6660 vines/ha, that's quite a lot of hand-harvesting that needs to be done by about 130 pickers (all women!) who work in teams of nine (8 pickers and 1 to carry the baskets back to the sorter). Harvest is from September to December at the very latest and is completed in about five harvesting passes down the rows. The shortest vintage was in 2003, when all the grapes were harvested in a single pass on Sept 24, while the longest was back in 1985 when eight passes was necessary to complete a vintage which had dragged into December. In comparison, 1990, a good vintage for the Sauternes region, lasted for only 20 days (Sept 5 - 25).
The average yield is about 12hl/ha which is well-controlled under the appellation limit of 25hl/ha. Fermentation is in new oak barrels for a period ranging from three weeks to two months, depending progression of the individual batch. Maturation follows for 24 months. Guiraud is styled as fresh sugar levels, little acidity (1g/L) with complex flavours and a long finish. The final blends hover around 75% sauvignon blanc and 15% semillon.
2002 Guiraud: First bottle off. 2nd bottle much better but didn't have time to rest, popped and poured. Faint golden yellow in colour, muted nose that reminded of vintage/antique aged wood (+ varnish?), like when you first walked into a furniture dealer, it's a good smell, but odd. Simple spice and fruit flavours make this quite drinkable but lacks the elegance or a definitive character. 88+/100.

2005 Guiraud: Slight tinge darker than the 2002. Light, teasing nose, sweet aromas from shy-lady blossoms. Fresh fruity flavours, low levels of acidity that's balanced so the drink isn't made a lightweight. Soft pineapple rolled in almost a tropical coconut-like paste served along side baked apple. This isn't a rich, luscious drink, the aftertaste lingers ever so lightly in my mouth. Yum, I'd be happy to drink this on a daily basis if I wasn't concerned about diabetes. 94/100.

2001 Guiraud: A very early ripening vintage picked in August (first vintage this early since 1893) that was harvested in two passes completed within a week. This vintage also incorporated slightly more sauvignon blanc (45%). Rich medium gold colour, notes of bee wax, honeysuckle, orange, citrus (+clove?). Full-bodied, great intensity with a finish that lasts almost a minute. I can see this lasting for 15+ years? 96/100.

1996 Guiraud: Another great vintage with a 45% sauvignon blanc blend, the 96 showed more intensity than the 01. Deep golden colour like fine cognac, the notes of bee wax is even more prominent in this one, intermingled with aroma of light orange and sweet spices. Full of flavour, yet so well-balanced, acidity at the right levels, and an aftertaste that lingers like a lovely memory. The finish here is richer than the 01, but the 96 is a step down from the 01 in terms of elegance and finesse. 95/100.

1995 Guiraud: The colour of this is perhaps one shade darker than the 96, but the nose is leaner. Overall, the flavours are still quite rich and luscious, but the complexity is lacking. The aftertaste is muted but decent enough to detect the simple fruit characteristics. However, after one hour, it started smelling like the inside of a plastic box. Hmm... 90/100.

1979 Guiraud: The 79 vintage was actually pretty abundant. Maybe a big harvest somehow diluted out the flavours? This has the same rich colour as the 95, smooth velvety impression. It has also aged quite well but is clearly feeling tired by now. I can still make out notes of savoury spice, dried out stewed fruit with tough of fresh chilli sauce, and some of the underlying fruit sweetness. It's not rich, but rather quite diluted and weak. The finish seems like it's drugged out, but still rather pleasant. Drink now. 85/100.
---
Sauternes 2001
What would a decent Sauternes tasting be without a horizontal of the great 2001 vintage? The second flight of wines following six vintages of Guiraud comprised of the 2001 Guiraud, three other Sauternes and two from Barsac. The wines were served blind and it was easy to pick out the Suduiraut and Lafaurie Peyraguey, but the Coutet was quite unlike that I'd anticipated and was more muted by my expectations. I hadn't had the Raymond Lafon and Doisy Daene before, so it was a toss up when it came to guessing which was which.

2001 Coutet: I initially thought Raymond Lafon, certainly not close to an example of a decent 2001 Coutet. This Barsac exudes a light golden colour with a slight off-tinge. A nose of soft, honeyed candy preceding a flavour profile of basic sugars and sweet spice before finishing with a simple aftertaste. Very disappointed with this bottle that even had Xavier Planty shaking his head while exclaiming 'This is Coutet? No, no, no...' 89/100.

2001 Lafaurie Peyraguey: Light to medium gold colour hinting towards the full-bodied, all encompassing flavours of pineapple, peach and a hint of new oak. Strong level of sweetness with intense and rich flavours built upon a structure of good acidity but it trailed off rather meekly towards the end. 92/10.

2001 Raymond Lafon: Guessed a Doisy Deane initially. Soft and elegant aromas of peach, apricot and coconut(?). Quite a rich flavour profile that is held in balance with a moderate level of acidity. 94/100.

2001 Suduiraut: Bingo! There could have been no other. Suduiraut is one of my favourite Sauternes at present and I've had a couple of bottles of the very nice 2003s which have obviously been built upon the style and quality of this 2001 vintage. Medium golden colour, notes of creme brulee, honeysuckle, ripe and reduced orange, and a whole complex blend of exotic fruit spice. Rich and luscious, your mouth is swamped with intense fruit flavours that swirl about like a rich fondue that remoulds itself after being cut by the firm, crisp acids. Almost reaching its peak period for drinking. 97/100.

2001 Doisy Deane: A very disappointing bottle with the obvious presence of volatile alcohol and sulphites. If you can look past those, there was something left of the core to make out. Softer, lighter flavours then the other 2001s with a long-lasting aftertaste. 92/100.