16th May 2010
Yarra Yering was evolved into a Yarra Valley landmark by the late Dr Bailey Carrodus and some pundits might even argue for its installation as an iconic Australian winery. The 2008 vintage was the last to be overseen by Bailey who passed away in September that year. He had the perfect academic foundation for success in viticulture with a PhD in plant physiology from Oxford which was put to use in lectureship positions at Adelaide and Melbourne Universities. Armed with winemaking knowledge via Roseworthy and after time with CSIRO, Bailey took himself into the Yarra Valley and founded Yarra Yering in 1969. Naturally, he undertook the viticulture of initial 12ha of vines and winemaking by himself. Expansion of the vineyards was undertaken in the 80s and 90s when small parcels of land were purchased to account for the deserved increase in demand for Bailey's wines.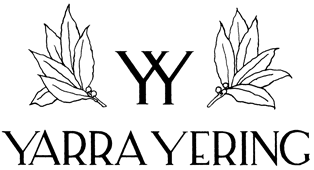 The winery and vineyards are located in Gruyere, off the Maroonda highway through the Yarra Valley. Bailey clearly knew what he was shopping for as the majority land is north facing and allow the vines to bask in the benefits of sunshine to the fullest extent. The soil composition is primarily silt and clay loam but with bands of gravel running through to facilitate root aeration and drainage (the latter not really a factor during recent years of drought). The winery itself is surrounded by diverse land parcels with gently sloping land right in front of the beautifully done up cellar door (left), a slight elevation that you can admire sitting in the tasting room to the higher elevated flats behind the winery itself (right).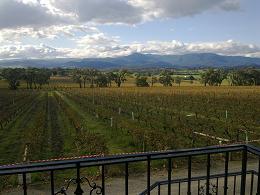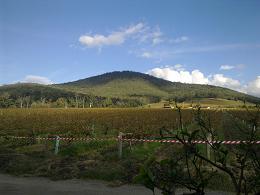 The uniqueness of the land and astute knowledge of its founder is clearly demonstrated in the variety of wines made and the philosophical approach to winemaking. I'm unable to avoid using this term, but yes, this is unique terrior we're referring to. No one can question the boldness of one who plants chardonnay and viognier, pinot noir and shiraz. Then again, back then, you just had to give everything a go. At that time, the Yarra was attempting to re-discover itself all over again as a wine-producing region. But it does take foresight and plenty of self-belief to terrace a north-west facing slope to plant Portuguese varietals NOT only for the sole purpose of producing port but also for a still blend. Overall, it is safe to say that Bailey was really good at honest winemaking, regardless of style. Yarra Yering has consistently produced beautiful, long-living Bordeaux blends over the decades. This was acknowledged by Langton's in its initial classification of Australian wines although it has been pushed down the rankings in recent revisions but that is primarily due to the waves of up-and-coming labels (it is currently classed 'Excellent' by Langton's classification IV). At the same time, his attempts at the classic Cote-Rotie blend of Shiraz Viognier were no less successful and not surprisingly, Tim Kirk of Clonakilla fame has previously described Bailey as a significant mentor of his.
No one was spared the troubles and distress of the Yarra region over the past few years of drought and bushfires. The 2008 vintage should undoubtedly receive strong interest from both loyal customers and poignant collectors who appreciate the historical significance of the current release. Next year's releases will also garner interest as it will be the first releases of the new owner and winemaking team.
Yarra Yering Chardonnay 2008
$75. Chardonnay from original 1969 plantings (41-year old vines), fermented in small open-fermenters with malolactic fermentation complete in 40% new French oak barrels. Soft aromas of honey and lemon peel with a strong presence of chalky talc. A medium-bodied wine with soft citrus flavours, an element of minerality and well-balanced by ripe acids that fade off nicely. Drink over next 5+ years. 90-91/100. Tasted at winery May 2010.
Yarra Yering Carrodus Viognier 2008
$150. Light gold colour, nice soft nose with the typical prominence of apricot, orange blossom, acacia and a touch of marzipan. A full-bodied white that is well-weighted with lovely lemon and mandarin flavours. An appropriate level of ripe acidity and there's a zingy finish, but I get a sense that it could do with a touch more freshness. Drink over next 3-4 years. 89/100. Tasted at winery May 2010.
Yarra Yering Pinot Noir 2008
$75. A nice expressive Pinot Noir with notes of strawberry, plum skins, mushroom water and a touch of oak. Medium-bodied with ripe berry flavours balanced by good acidity. An easy drink with the flavours fading off very cleanly. Drink over the next 5 years. 89/100. Tasted at winery May 2010.
Yarra Yering Agincourt Cabernet Merlot 2007
$75. Aromas of blackberry, spicy plum overlayed by touch of fresh crushed herbs and hint of tar. Vibrant fruit flavours both spicy and zippy. Smooth even tannins offer a firm structure but maybe needs a bit more acidity to keep the finish fresher and more lively as it trails off. Keep 2-3 years, then drink until 2018. 92/100. Tasted at winery May 2010.
Yarra Yering Dry Red Wine No. 1 2008
$75. A classic claret blend of Cabernet Sauvignon, Merlot, Malbec and Petit Verdot. Lovely nose of blackberry, dark raspberry and a splash of savoury stew. Medium-bodied wine with a generous dollop of dark berry fruit flavours. An appropriate level of acidity but the tannins are a touch too wimpy for me. They're too soft to prop up the weighty flavours and should be more robust. Drink over next 5-7 years. 91/100. Tasted at winery May 2010.
Yarra Yering Dry Red Wine No.2 2008
$75. Shiraz co-fermented with Viognier and Marsanne. Clear crimson colour with attractive, lovely aromatics. Obvious honeysuckle and apricot hints from the viognier and the floral lift from the Marsanne. Lovely plush plum fruit flavours backed by firm sweet tannins and the acidity is merely an afterthought. Still needs time to come together. Keep 3-4 years, drink until 2020. 93-94/100. Tasted at winery May 2010.
Yarra Yering Carrodus Merlot 2008
$150. An expressive effort that brings out a side of Merlot quite uncommon to Australia. Notes of black plum with a touch of herb and chocolate-like grains. A nice medium-bodied wine with moderate level of tannins and acidity. A well-rounded drink offering up generous ripe red/black fruit flavours. Drink over next 8-10 years. 91-92/100. Tasted at winery May 2010.
Yarra Yering Carrodus Cabernet Merlot 2008
$150. Lovely up-lifting perfume of blackberry, blackcurrant fruit with a touch of green stalky herbs. A medium to full-bodied wine with plump dark berry flavours and fine tannins. If there's a displeasure to pointed out, it's perhaps that sensation that the merlot does feel to swamp the cabernet sauvignon somewhat? But one can't argue against what it does for this wine - gives it body, weight and spicy acidity. Drink over next 7-12 years. 91/100. Tasted at winery May 2010.
Yarra Yering Dry Red Wine No.3 2008
$75. A blend of six Portuguese varieties - Touriga Nacional, Tinta Cao, Tina Amarela, Alvarelhao, Roriz and Sousao. The colour is purple and pitch black. Warm, sexy seductive black fruit, berries, plum. Think onix and jet chips. This full-bodied wine is warm and inviting, generous fruit load that is very well balanced and the even, well-dispersed tannins provide a firm backbone. Medium acidity, the finish is smoother and lighter than I anticipated. Drink 2010 - 2020. 94/100. Tasted at winery May 2010.
Yarra Yering Potsorts 2008
$75. A full-throttle fortified wine made from the six varieties used for Blend No.3. This is a powerful vintage 'port' with concentrated black fruit flavours, liquorice and cassis. It doesn't drink like a young wine as the spirit isn't obvious at all. The dry, even tannins hold up very nicely and this isn't too sweet, thick or chunky. A fine effort. 93-94/100. Tasted at winery May 2010.
---