End-of-March drinks
Just a couple to round off the month..
| | | | |
| --- | --- | --- | --- |
| | Picked this up last weekend at the Food and Wine Show. Their crops have been reduced to 50% this vintage. Anyway this light muscat is a perfect summer's drink. About 5%, crystal pink in colour. Light and sweet, very refreshing served cold. 92/100 | | Into the glass, and you straight away pick up on the lush aromatics wafting upwards. Rose syrup notes, this rich muscat (lighter texture than usual muscat standards) has a rich raisiny flavour with an aftertaste that goes for about 20secs and doesn't leave you gasping for a rinse of water. 91/100 |
| Subtle eucalypt nose with fruity undertones that transform into dense sweet bread. Silky feel with fine tannic structure; tannins will mellow with further aging. Meduim-bodied and warm, has a good lengthed, spicy (black pepper?) aftertaste which resides on the back palate. Should be drinking optimally in about 3 years. 92-94/100 | | The Slipstream is the project of a trio of winemakers, including Ben Riggs (Tatiarra) and Stephen Pannell (S.C. Pannell). It's 72% shiraz/28% grenache. Lush, aromatic nose of raspberries and licorice. It's elegent, with a heady silky texture, combined with velvety tannins. However, this medium-bodied wine does lack a substantial aftertaste on the back palate and I feel it's abit hollow. There's a lingering sensation on the tip of the tongue with a white pepper finish. Length of aftertaste is reasonable and leaves a warm sensation. 90/100 | |
Friday 30th March 2007 - Court House Dramas
No pictures here, but the deal was 2 courses + wine $30 or 3 course + wine $37.50. Entree: Chicken and rabbit terrine (chunky texture blended perfectly with lightly oil leaves or contrasted very well against pickled dill cucumber) or pumpkin and ginger with sautéed shitake mushroom veloute (soup), main: roast pork fillet (perfectly roasted, slightly pink in the middle) or fresh ocean trout (yummm! done to the perfect texture!), desert: chocolate parfait.
Sunday 25th March 2007
I'm going to make an exception and have a snippet here about something that's not edible nor can it evaporate. After Wicked Sunday, a couple of us headed to 6 Links along Lt Collins St to check out the final of 8 shows in which some comedians have been trialling material for the upcoming Melbourne International Comedy Festival (starts 4th April). Anyway, Spicks and Specks host Adam Hill held the night together, and this is a clip of the show's ending that I got with my camera with Hillsy singing 'All You Need Is Love'. Because I'm a sad loney soul craving for inappropriate comments and queezy innuendos, I'm going to be shameless and bask in Adam's sweaty aura by adding my email address here for heathen contact.
Oh, and links to his site www.adamhills.com and his myspace www.myspace.com/adamhills

Sunday 25th March 2007 aka Wicked Sunday
Yes, these are ALL chocolates.....including the frogs, chicken, fish and tortoise...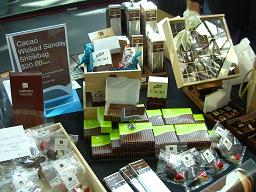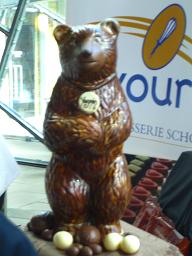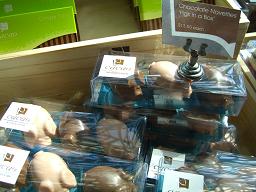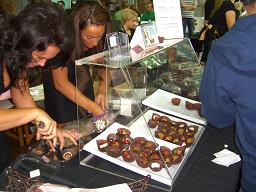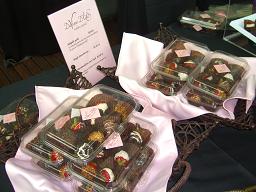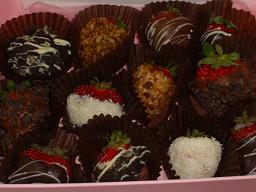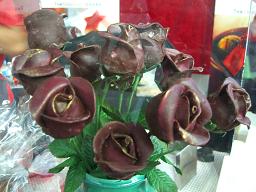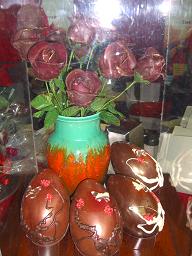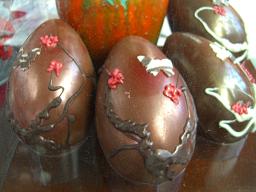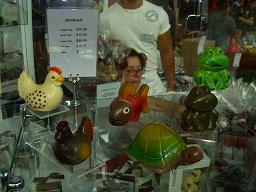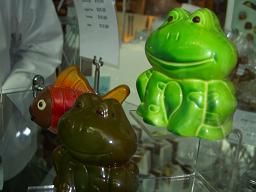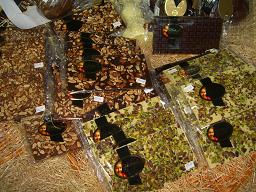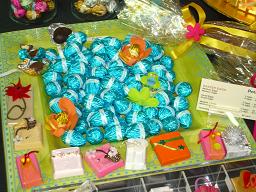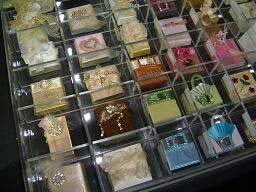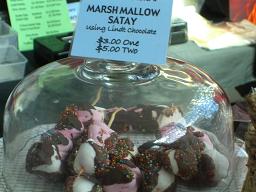 Saturday 24th March 2007 (Part 2)
After the wines, it was onto the International Flour festival. Let's just say I ate lots.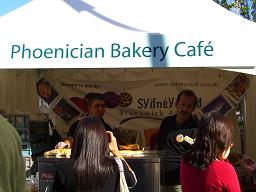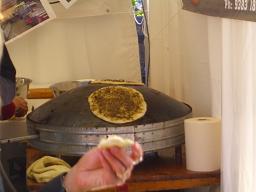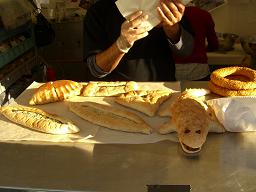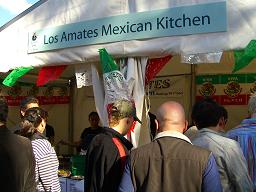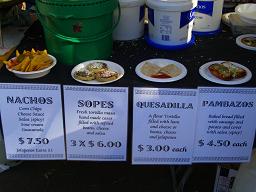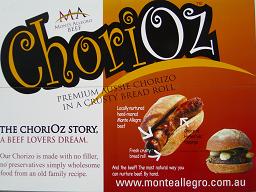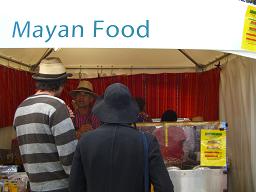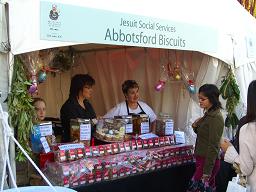 Saturday 24th March 2007 (Part 1)
Went for Cellardoor by Southgate ($25) featuring wineries from Victoria, about 80 in all, but I only visited a few and tasted mainly light whites and sweets.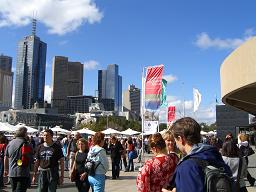 Dropped by the Chambers Rosewood stand, had their red, muscat, stickies, picked up the light muscat (white) and walnut muscat (sticky) for $29. Apparently their rares will be $250? the guy probably mentioned it thinking I didn't know the price. I vaguely remember them bring $350 per?
Gapsted Wines - Victorian Alps. 2006 Moscato ($16) - made in the d'Asti style, floral pear nose, light peach flavour, fizz is well-balanced to give a crisp fresh aftertaste. Recommended 90/100. 2005 Petit Manseng ($20) - dense spice and ripe peach, dry finish 88/100. 2004 Saperavi ($25) - this is the first time I've come across this Russian grape variety. I thought there was too much oak on the nose for my liking, quite tannic 86/100. 2006 Dolcetta Syrah - sweet dense red with slight fizz, bit of a savoury finish, 87-88/100.
Brown Brothers 2006 Pinot Grigio - weak aroma of fruit, very dry 85/100. 2006 Moscato - Too sweet, lacks character 84/100. 2006 Zibibbo - first experience with this style. Fresh and zippy due to the fizz. Good summer drink 88/100.
Pizzini - King Valley. 2006 Riesling ($15) - honeyed?, finish lacks pizzaz 87/100. Arneis 2006 ($20) - dry 87/100. Brachetto 2006 ($19.50) - first time hearing of this variety, originating from Piedmonte. slightly fizzy red, pinkish, almost rose coloured, rose scented, very sweet 88-89/100.
Best's Great Western - the guy was really friendly, the Bin 1 is wayyyy too young, but is a decent drink.
Seppelt Great Western. 2005 Chalambar shiraz - TANNINS 84/100. 2005? Benno Shiraz - TANNINSSSSS 84/100.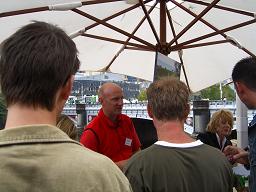 Talked to Mark Hunter of Sanguine Estate about their 2007 harvest, and they've been hit by 2 bouts of frost along with the drought, so tiny berries and only 30% of the expected volume. He's got a nice 2005 Quattro, a Bordeaux blend of Cab Sauv, Cab Franc, Petit Verdot and Merlot ($25), nicely perfumed with a velvety texture (92-94/100). The 2005 Chardonnay/Viognier ($25) has 10% viognier, so I expected more exotic fruity notes to come across. Instead it had a deep buttery nose with a slightly harsher texture due to the viscosity imparted by the viognier 88/100. The grapes that go into the second tier shiraz - the Progeny - comes from a parcel of light soil right next to the dark soils that hold the Heathcote shiraz fruit and sits on a slightly higher elevation along a slope. The 2004 Progeny ($25) was indeed a younger version of the Heathcote shiraz having only spent 12 months in oak (the latter also had a significant amount of new french oak), but it's got the same dense fruit backdrop within. Mark let me have a taste of the 2005 Heathcote shiraz, and from memory, he said they've extended the time it spends on oak to 18 months, and indeed the 05 is more perfumed (92-94/100). Interesting to note that there will be significant changes to blends on this year on. Firstly, 2006 will see a straight chardonnay. The viognier will be used for a shiraz viognier and form the second tier wine. Fruit from the Progeny parcel will be blended into the Heathcote shiraz (might explain the more subtle and lighter character of the 05 Heathcote shiraz).
Thursday 22nd March 2007
Riedel masterclass led by Georg Riedel, organised by Prince Wine Store to launch the new Grape glass line, held at Federation Sq. $150 per person, you get the take home the glassware (RRP $240 total).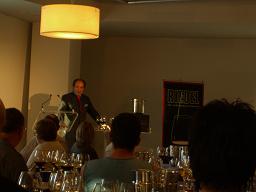 Catalina Sounds Sauv Blanc 2006, Marlborough, NZ - fairly intense notes of sweet gooseberry, stewed citrus/orange, minerality. medium bodied, clean acidity and flavour, good length for aftertaste. not too dry nor tannic. 89/100
Te Mata, Elston Chardonnay 2005, Hawkes Bay, NZ - notes of oak, bit too warm hence rich overly buttery nose, fruit based, balanced acidity, grapefruit flavour. good moderate length aftertaste. 89/100
Escarpment Pinot Noir 2005, Central Otago, NZ - dense garnet colour, earthy undertones with light beef stock nose. young tannic structure which lingers but falls off quite quickly into an agreeable level (can this wine really last for 10 years as suggested?? doubt it). length of aftertaste a little too short for my liking. 88/100
Balnaves Cab Sauv 2004, Coonawarra - deep ruby colour, oaky nose, pencil shavings, abit of greenishness (1/100th the level of greenock creek's cab sauv), light on the mouth, notes of dark fruit, highly tannic across the palate, abit 'hot' but not spice. majority of the aftertaste falls off rather quickly. 87/100
Of course the night was all about the glassware, and it so happened that I sat at a table with extra sets, so I got two boxes of glassware. Very profitable night (retail-wise) but dammit! I missed out on packing the cab sauv 'O's which were used to serve plain water.
Tuesday 20th March 2007
The Torbreck mailer arrived today, containing 3 bits of news. There's a new Viognier ($48.50) from the Descendent block, new Eden Valley shiraz 'The Gask' 2005 ($75), and Dave's re-married. The 2005 Descendent is out, can't wait to taste this and see how it compares to the amazing 2004. It'll also be a potential indicator of the quality of the 2005 RunRig. btw, the 2004 RunRig (tasted couple o weeks ago at Nick's, well, more drank than taste), great juice, layers of complexity, but the 2002 still manages to pip it at the tape.
Went for a 'Sweet and Sticky' paired tasting ($22) as part of the Melbourne Food and Wine Festival at Bourke St Cellars. RL Buller ports, tokay and muscats were matched against Fardoulis chocolates from NSW. Samples were sent up to them and different chocolates were paired to a particular drink which the head chocolatier thought was most appropriate. Overall, the setting could have been much better due to the crampness of having 2 long tables side by side with about 60 people in a slightly warmer than desired room. The chocolates would have probably been great on their own, but I think the double dose of sweet and sweeter wasn't helped by the fact that the evening commenced rather early and we hadn't had dinner. Anyway, here's the list.
Fine Old Malmsey (Dense, concentrated mouth, but bitey? spiciness on tip of tongue and lacking on the back palate. 88/100) - Honey Macadamia (Creamy but a bit too weak, needs more weight from the honey. Being dark chocolate, I expected some bitterness and this is a problem with all the chocolates served)
Fine Old Liqeur Tawny (Lacks nose and aftertaste, bitey. 86-87/100) - Cherry Cream (Very good, subtle vanilla and cherry, not overpowering)
Fine Old Tawny (Wafty water fruit, dried raisins? cherry. light bodied, lacks aftertaste. 86-87/100) - Fig (medium weighted fig but abit ilght in aftertaste)
Fine Old Tokay (Spirited, harsh and young, unbalanced? alcohol, waternut feel, lacks flavoured aftertaste 88-89/100) - Orange Macadamia (creaminess of macadamia mixes well with orange flavours but abit sweet on the end for me)
Fine Old Muscat (raisin, rose syrup? light nose, very light texture, poor structure on palate. 87-88/100) - Ginger (lacks the spiciness of ginger, not recommended)
Calliope Rare Tokay (definately too warm for the night, had been poured and sitting for 2.5 hours by the time we got to this, ok nose, aftertaste washes out quickly ~15sec. 90/100 ) - Strawberry Macadamia (creamy, sweet but nothing impressive)
Calliope Rare Muscat (nose of prunes and raisins, good length to finish. 95-96/100) - Lemoncello (didn't bother making notes)
St Patrick's Weekend 17-18 March 2007
Yes, the annual pilgrimage of green topped drunkards through the streets of Melbourne, shouting, cheering and jumping on each other with legs flaying is done and dusted. Drinking on a personal level was kept to a minimum, comprising of non-irish beverage which was deemed passé, and really, after you've been to Dublin, you'll never want to drink another Guinness. Hence the choice was made, and fell upon James Squires Brewery in the heart of Melbourne City to host us non-F1 poofters (which incidentally, was successful for the McLaren team yay!). As I said, drinking was minimal - pints of Portland Pale, couple of Craic... by which time I became Mr Sleepy (see photo below). Had a couple of bottles the next day, a Kalleske Clarry's Red which was quite aromatic but rather weak on the palate and too tannic for my liking; a 2005 M Chapoutier something.. Cotes de Rhone $17.99 so didn't except much.. very might pinot-noir'esque, tad of gamey notes but definately fruit-driven.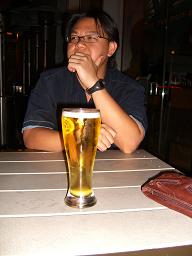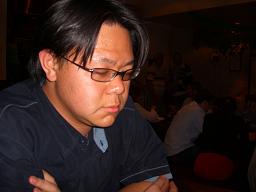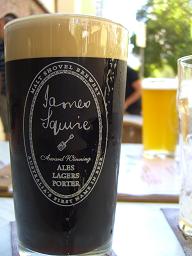 Sunday 11th March 2007
Picked up some bottles from an auction site this week, some of them were autographed. But the Kalleske 'graph got wiped off during transit I think, so I had no qualms about opening it. And just for the heck of things, I figured might as well open up a Johann Georg too.
| | |
| --- | --- |
| | The Kalleske 2004 Old Vine Grenache has all the aromatic qualities one normally associates with a pleasant casual-drinking wine. Troy Kalleske makes this beauty from a single vineyard planted in 1935 by open fermentation, a gentle basket press followed by 2 years in seasoned oak. I was surprised to see the label reading 15.5% alc/vol, because at no time during the 1 hour that it took for this bottle to empty out did I get the heaty feel of any excessive alcohol on the mouth (*cough* greenock creek). Incredible nose of rich raspberry, sweet cherries (not black!) and spice. Medium-bodied drink, great balance of acidity in the mouth with a reasonable-lengthed after-taste. Will do well over the next 5 years. 92-94/100 |
| The 2003 Johann Georg shiraz is made from vines planted in 1875, hence low yielding vines result in an extremely limited production (100 cases for 2003). Standing at 15.5%, similar to the 04 grenache, I never even thought of the alcohol levels in the glass, as I was mesmerised by the lush aromatics wafting out of my glass and I couldn't wait to get stuck into the drink. Notes of fresh white flowers, roast beef sauce and creme de cassis all melded into a deep inky purple joocey stew. A touch of tannins linger with the mellow warm aftertaste on the upper palate that goes for a good 30+ seconds. A most elegant wine that is unique for the Barossa valley, and does very well in distinguishing itself as an atypical top-notch SA shiraz. This beauty will do well for 10+ years, can't wait to have the 2 more bottles I have! 98/100 | |
Sunday 4th March 2007 Brunswick Street Festival