Paringa Estate & Stonier: Thursday 31st May 2007
Not the brightest day to be driving into the Mornington Peninsula, but it had to be done. I managed to visit the two main wineries in my mind, a bite at Merrick's general store, hop off at the chocolate makers just a couple of units from Merricks. It was disappointing to find out that the Red Hill Cheese Co. only opens on Fri, Sat and Sundays now.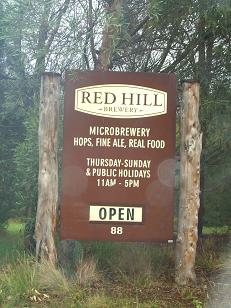 A quick drive-in through the Red Hill Brewery to pick up their Hops bottle (seasonal), but their Stout will be available in 3 months as I was told it's only brewed in winter.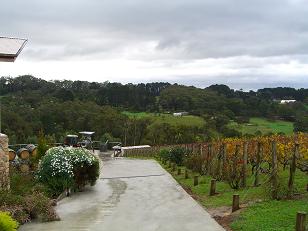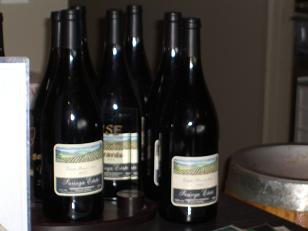 Paringa Estate
2005 Riesling ($15): The 3rd estate release from 16-yr-old vines off the Callanans Rd vineyard. Tank fermented, the wine has retained a lot of its original ripe fruitiness and unadulterated acidity. Very fragrant, floral and light lemon with a hint of kerosene. Palate of citrus fruits, crisp acidity, flavours go on and on. Can't get any better value for money! 91+/100
2006 Estate Pinot Gris ($20): Aroma of pear, high level of malo, with apple flavours and finishing shortly with clear acidity. 89/100
2005 Peninsula Chardonnay ($18): Blend of fruits from several vineyards around the area. Fruity aromas of citrus and stone fruit, nectarine. Palate has similar characteristics. Good acidity. 90-91/100
2005 Estate Chardonnay ($35): A notch up from the Peninsula version, clean citrus and stone fruit flavours but with a slight creamy nut flavour. Aftertaste stays for awhile with malolactic acid. Will definitely improve with age. 92-93/100
2004 Peninsula Pinot Noir ($25): Dark cherry notes with dark fruit flavours. Very very young, with the tannins coming straight across. 89/100
2006 Estate Pinot Noir ($55): Only bottled 2.5 months ago, but cellar door has started to release it as the 05s have sold out. Notes of dark cherry with the new oak showing significantly. Savoury flavour on top of dark fruits. Revisit in 5 years. 91/100
2004 Peninsula Shiraz ($25): Nose of ripe blackberry (mulberry?) fruit. Taste is clearly a cool climate shiraz, lacking in the warm heat typical to so many other VIC shirazes. Medium-bodied with plum flavours and a hint of pepper. Soft tannins. 88/100
2005 Estate Shiraz ($50): 3% viognier added, but I don't understand why. I got no hint of the viognier aromatics that should be present. Co-fermented, aged for 15 months in new and 1 year old French oak. Plum flavours. Drinkable. 88/100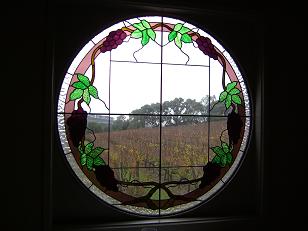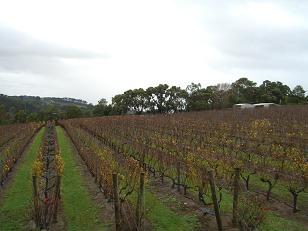 Stonier is located right next to Merrick's General Store, perfect location to have your lunch/tea before or after a visit to their cellar door. The uncovered walkway didn't protect us from the rain, but it was nicely warm beyond the huge cellar doors.
2004 Stonier Sparkling Pinot Noir Chardonnay ($28): Fruity, slightly dry on the palate.
2005 Stonier Chardonnay ($23): fruit from 10 year old vines, 80% fermented in 3-4yr old French oak, 20% in steel vats. High malolactic flavour, very fruity, but the acid levels might be on the slightly higher side.
2005 Stonier Reserve Chardonnay ($39): fruit from 21 year old vines, fermented in brand new, or 1-2 yr old French oak. Very aromatic, notes of ripe melon?. Fragrant and good lingering aftertaste.
2005 Stonier Pinot Noir ($24): young vines into old oak, hence a very herby young and tight nose. Structure is lean, cherry. Drink over 2-3 years.
2005 Stonier Reserve Pinot Noir ($45): old vines (planted 1982) into new oak, small portion whole bunch fermented. Tannins are very high now, quite dry and harsh. Retaste after 4-5 years.

The 2004 single vineyard Pinots have sold out - KBS vineyard and the Windmill vineyard ($55 each). The 2004 KBS vineyard chardonnay is still available for $55 too.
Hanabishi: Monday 28th & Thursday 31st May 2007
One can easily walk past Hanabishi without giving it a second thought. Located near a Subway, chinese takeaway and pizzaria, this restaurant at 187 Kings St is easy to miss. From the dark aqua green signboard displaying only its name in simple font to to choice of dark interior fittings and dimmed lighting, the unassuming and simplistic exterior does well to hide unique japanese cuisine of good quality and offering excellent QPR (with exceptions).
Moriawase: Tuna, Kingfish, Salmon, Swordfish - 4x nigri, 3x tuna sushi rolls, 4x3 sashimi. Fish was served at the perfect temperature, not like it was straight out of the fridge. Texture was firm and thick. Sushi rolls were more fish, less rice; ditto for the nigri.
Tempura: batter was perfect, light in colour as well as oiliness.
Agedashi tofu: oh my god! How can fried tofu be this light and soft on the inside, with such a thin and crisp outer layer! Dish of the night.
Gyusahi: Raw beef slices cut to abotu 1mm thickness, with a tiny splash of soy-based sauce.
Shirauo: white bait fish, our first serve was bad - had a strip of plastic inside.. sent back, got a new batch, good and light. (We weren't charged for this dish eventually)
Sugiita yaki: Patagonian toothfish, wrapped in dried bamboo leaf with mushroom and baked/grilled to perfection. Exotic fishy smell and creamy texture of the meat, texture of the meat was vaguely similar to snowfish.
$146 for 3 ppl.

Sashimi ($34): same 4 types of fish served as before, slices were slightly more chilled than previously. Still great stuff!
California rolls: spanner crab meat with avocado and cucumber. The rich creamy texture of the avocado goes perfectly with the light nature of the crab meat, uplifted by the fresh cucumber.
Agedashi tofu: had to have this again.
Soft shell crab ($17): 3 half pieces of crab. There was abit of residual oil on the palate, but the frying was close to perfect.
Salmon skin salad: A generous serve of crisp salmon skin with a mix of salad leaves.
Bamboo-grilled barramundi ($39): overnight seasoned de-boned barra wrapped in fresh bamboo leaf and sealed in a case of packed salt, then baked. Aroma of light soy enhanced by the bamboo leaf, meat was perfectly soft whilst retaining it's compact texture. Dish of the night.
Tempura udon ($20): I've got gripes about this solely because of the price. The soup was light and clear, no hint of excessive flavours. Udon was supple, and the 2 tempura prawns were great. But for $20, you'd be better off trying some other dish. It's more of a $15 dish in my mind.
$168 for 3 ppl.
Dinner @ 312 Drummond: Tuesday 29th May 2007
7 course degustation $95 per person, $55 for paired wines. Located at the junction of Faraday St (Brunetti's) and Drummond, across the street from the Lygon Crt Safeway carpark. Heard good reviews about the place and food. Decor was nice, nothing too fancy. 2 levels of dining. Overall impression was good, food wasn't too bad either, and certainly not as refined as Vue de Monde (but what can you expect for dinner at half the cost of VdM). For the price and 2 hats, I think the Court House might be a better go. 15.5/20
Clair de Lune oyster, with Goya sherry (Portugal)
An excellent opener, the oyster was well marinated with good subtle flavours and this was washed down well with the cleansing effect of the sherry. 8/10 for the oyster.
White cut chicken & prawn, with Freeman (NSW) white blend of (I forgot..)
This was a terrible dish! The prawn was not fresh, the shell had dark blotches and the head had a powdery feel typical of less-than-acceptable quality. I'm not sure the combination of chicken and prawn works at all. 3/10
The wine was aromatic but had a poor aftertaste. 86/100
Kingfish, crab & cuttlefish salad, with Leo Buring 1999 Eden? Valley Reisling
There was too much flavour going on in this dish, which was served with pernot dressing separately, but the dressing was totally unnecessary in the confusion of sauces. 5.5/10
The aged reisling was good, with the typical notes of petroleum. 91/100
Slow cooked pigeon, foie gras cigar & chocolate sauce on green lentil and pea base, with Chinon 2003? Cabernet Franc
2 cuts of pigeon were served, a good breast fillet but a less than satisfactory thigh. The breast fillet was perfectly juicey and soft, and matched very well with the chocolate sauce. 6.5/10
The Chinon had earthy, mild herby notes and was a good match for the pigeon. However, not much fruit to talk about. 87/100
Seared Wagyu beef rump with truffled pearl barley & sauteed mushrooms, with Mt Langhi Ghiran 2004 Nowhere Creek Shiraz
The rump was slow cooked to perfection, just a slight layer of brown on the outside, uniform deep purple middle. Pair excellently with the barley accompaniment. 7.5/10
The shiraz was too young and tannic. It's fruity with notes of plum, but lack any solid character. 88/100
Note: I mentioned the wine didn't go well with the dish, and the waitress said that this wasn't the originally intended pairing, but the intended Barolos kept turning up corked (3 out of 4), so they had to ditch that case and make a substitute.
St Agur with poached quince, toasted walnuts & pain d'epics, with Carmes de Rieussec 2004
The blue went very well with the quince. No complaints there. 7/10
But to pair something that strong with a light sauternes?! that's just attempting the silly. I'm not sure whether the decision was an insult to the cheese or the wine. If I were harsher, I'd say both. The 04 is way too young and light to be served now. It had the expected honeyed aromas with almond pear. 89/100
Note: I did mention that the Carmes was too young to be served now, and that I thought either the 02s or 03s would be a better match, and the waitress asked me 'Are you in the industry?' My reply, 'No, I just drink alot'.
Lemon chiboust with vodka granita and poached rhubarb (Palate cleanser)
Chiboust is like creamy ice-cream. Rhubarb was a substitute for fresh raspberries. Very nice. 7/10
Chocolate ganache with parsnip cream, malt milk chocolate parfait & tarragon, with Bress 2006 Kindest Cut
Nice way to finish before a pot of tea. Would've been nice if served with thick, piping hot coffee. 7.5/10
The Bress was a nice light clarified butter colour, sweet mix of Reisling, Muller, and gewurztraminer.88-89/100

Saturday 26th May 2007
Dan Standish and Jaysen Collins were at Cloudwine showing off their Massena releases. Great stuff as usual, the Eleventh Hour Shiraz-Viognier and the Howling Dog Durif were standouts. They also had the Moonlight Run and Barbera on tasting and they went down very well. Their bottles range from $20-30+, excellent value for money, smooth drinks with layer upon layer of flavour.
Burgundy 2004 tasting at PWS:
Henri Gouges Nuits St-Georges les Chaignots 2004 1er ($105-125): Elegant, light nose of morning damp earth, combined with nice light fruitiness and a good lengthed aftertaste. 90-91/100
Henri Gouges Nuits St-Georges Vaucrains 2004 1er ($150-180): Burghound says this is a big wine, but I thought this wasn't big or rich enough. Had a higher tannin/acid structure and a sappy dry palate. Very tight at the moment. 90/100
Denis Mortet Bourgogne Rouge 2004 ($50-60): Narrow and tight, but fruity. 88/100
Mortet Gevrey-Chambertin Mes Cing Terriors 2004 ($115-135): Elegant but less ripe, earthy notes with broad, expansive sweetness that leaves a tingle on the palate. Good long finish. 92-93/100
Violot Guillemard Pommard Derriere St Jean 2004 1er ($100-120): Complex wine with earthy notes mingled with perfumed, dark berries. Touch of mineral and gamey smells. Well-blanced, softer flavours, smooth tannins and a long finish. 92/100
Wednesday 23rd May 2007
Spinifex 2005 Shiraz Viognier, Eden Valley
$45 from Cloudwine, I'll compare this to the Indigene when I get the chance to, since Cloudwine South Melbourne has sold out of both. Maybe Randall's still has stocks. Anyway.. I didn't buy this last year, but I had the many other wines that Peter Schell brings out under this label. 95% shiraz, 5% viognier. Notes of blueberry (muffin?), abit of cold, freshly crushed mint leaves, dark chocolate undertones. Very subtle gentle nose, none of the exotic overpowering sweetness or what I term 'bottled mistakes' that other similar blends have presented as. Light-medium bodied wine, fruity, fresh flavours. Maybe drinking this too soon.. should revisit in about 4 years. (89-90)
Tuesday 22nd May 2007
Tscharke 2004 'The Curse' Zinfandel, Barossa Valley
$30 from Cloudwine, an incredible 16.1% alcohol, Damien's vision for the tscharke line is to make wines with tradition European grape varieties grown in SA conditions and made in a Barossan-style. An excellent piece crafted here, perhaps rivalling US Zin's in terms of QPR. Notes of cinnamon, raspberry and slight white pepper undertones. Fruity and spicy flavours combine with sweet cinnamon pastry. Light bodied wine which left me wondering where all the alcohol was due to the absence of the typical alcohol heat. Pleasant aftertaste. 89/100.

Retasted the next day: Glorious aromas of white flowers (liliums?), almost like walking into a cold room at the nursery, coupled with savoury strawberries. The pepperiness has blown off. Still no sign of the high alcohol. More noticeable, velvety tannins have emerged.
91-93/100.

Tscharke 2005 'Only Son' Tempranillo, Barossa Valley
$22 from Cloudwine. At a mere 14.4% alcohol, notes of light soy sauce with fridge cooled, freshly washed dark cherries. Medium-bodied wine with a spicey finish and a good permeating aftertaste. 88-89/100.
Saturday 19th May 2007
Tasting at Prince Wine Store:
Domaine Ostertag Riesling Muenchberg 2004 ($72-85): A biodynamic operation, this wine is a blend of 5 villages and fermented in barrels used for pinot blanc, gris and noir. Golden clarified butter colour, notes of pineapple and slight botrytis. At 14.2% alcohol, it is rich, but slightly fat in my opinion, with a dry finish with petroleum pineapple (if there's such a thing). Has potential to develop as it is clearly a youthful wine that is tight and can open improve, probably in another 4-5 years. 89/100.
Hochkirch Riesling 2006, Henty region, South West Victoria ($23-27): Another biodynamic venture, this 12.7% has a soft, sweet nose with clean, ripe pear flavours. Very forward and fruity styled, has a good aftertaste. Good quaffer at this price. 88/100.
Mt Langi Ghiran Riesling 2006 ($17-20): Weak nose, not much aromatics, acidity abit on the high side to suit the flvours of poached stone fruit (white fruit/peach?). 13.5%. 87/100.
Mt Langi Ghiran Shiraz 2004 ($45-55): after skipping the 2003 vintage, the Ghiran shiraz is back. Subdued and carpeted perfume, it's an okay drink. 88-89/100.
Kiltynane Pinot Noir 2005 ($35.70-42): Yarra valley product from vines planted in 2000, this is the second vintage of yet another biodynamic practice (is everyone just skimping on insecticide and fertilizer?). This is a blend of several clones which are kept separate and fermented for a year in french oak before blending. Nose of earth and sweet spice, with an earthy, green herby taste. It's an okay drink.
Montgomery Cabernet Sauvignon 2005 ($25-29.50): Margaret River product made at the Moss Wood station. Blend of 85% cabernet sauvignon, 11% malbec and 4% petit verdot, this light wine spent 17months in french oak (30% new), but doesn't reek of vanillin. Can definitely see the malbec showing through with the soft ripe tannins. Minty spice on the nose and taste. Another okay drink.
Thursday 17th May 2007
Booked for dinner at 312 Drummond in 2 weeks. Added some wines, mainly on the South-Australia page.
2004 Epsilon Barossa Valley Coalsack Shiraz
Fruit for this creation of Jaysen Collins & Dan Standish was sourced from the Southern family vineyard who have their roots firmly in Barossan history. Aged in old french barrels, it presents as a pure embodiment of the fruit and straight-forward wine making style. Notes of wild strawberry and white summer flower, the 15.0% alcohol is completely masked by the aromatic nature, almost akin to a grenache style. Light-medium bodied wine has clear raspberry flavours with subtle tannins mingled in-between the simple chewiness. For $22-4, a very nice drink! 92/100. Tasted 29/04/07.
Tuesday 15th May 2007
Kalleske and Clonakilla mailers arrived today containing some eye-catchers. Kalleske has their first vintage port, the JMK shiraz VP @ $25 per 375ml bottle (6x$144, 12x$276). According to the Autumn newsletter, grapes were harvested over 7 days to give the level of complexity and further enhanced by fortification with a mix of new and old brandy spirit. This was followed by 2 years of maturation in seasoned hogsheads. The description is one of "anise, clove, violets, marzipan and plum" with [a luscious, rich and full-bodied palate with deep intensity]. Given the brothers' track record, and especially wtih Troy's ever-growing reputation, I would say that this is a safe bet for the curious, particularly those who don't really go for ports (myself included with certain exceptions of course). I'll probably try to get a bottle to start off. Also released are the 2005 Johann Georg (1 bottle limit) and Old Vine Grenache (2 bottles limit) at $45 and $100 respectively. Both are no-brainers, pick up as much as you can and drink over the next decade and beyond. Most of the 05 shirazes have been big on fruit with generous aromas to boot, and I would certainly expect no less from this Johann Georg. I recently had the 2003 which was nothing but beautiful. I'm playing the dangerous game of predicting how good a wine is before I even try it, but I have yet to be disappointed with Kalleske (apart from the Clarry's red which I think is simply abit light for my palate). Speaking of which, the Clarry's red is $20 per and the white $16 per. Their late harvest Lorraine Semillon is $11 per 375ml. Clonakilla is a funny one, because it's arguably the best viognier (2006 $45, no price hike despite the horror 2007 vintage due to frost destruction) producer in Australia, so close to a Condrieu, yet not quite a Condrieu. It is good, but for $45, I'd rather get a shiraz. There is the usual list, 06 Semillon Sauv Blanc $18 per, 06 Riesling $22 per, 06 Hilltops shiraz $25 per and 05 Ballinderry (Bordeaux blend - Cab Sauv, Cab Franc and Merlot) $30 per. There is also 05 Shiraz Viognier offered as a magnum @ $150. According to the description of the mailer, 07 volumes will be down 80% for viognier and down more than 90% for the shiraz viognier blend. However, fruit is good so if you want to dream of getting your hands on some in 2009, then you better start getting your good orders in right now and muscle your way to the front of the queue. News of a straight syrah, which will be released in Spring 2008 alongside the 07 shiraz viognier. Seriously, Tim Kirk does fantastic stuff, albeit pricey, so if you can afford it (and I can't for now) load up!
Saturday May 12th 2007
Couple of tastings this week from a very good 2006 vintage in New Zealand. Craggy Range from the Hawkes Bay area and Lawson's Dry Hill from the Malborough region. I had a late start, so avoided the sauvignon blancs.. just a random taste here and there..
Craggy Range Les Beaux Cailloux Chardonny 2005 $63.75: Good balance of acidity and buttery notes. 89/100.
Craggy Range Gimblett Gravels Sophia 2005 $59.50: Mainly merlot, generous velvet tannins with notes of sweet red fruit. 89-91/100.
Craggy Range Syrah Le Sol 2005 $72: Firm tannins and good fruit, finishing with a subtle aftertaste. 91-92/100.
Lawson's Dry Hills Gewurztraminer 2006 $19.55: Rich nose of rose petals, sweet white peach, lychee?, with a hint of spice to top. 92/100.
Lawson's Dry Hills Pinot Gris 2006 $19.55: made as a firm dry style, notes of poached pear, baked apple crumble, clove?. 92/100.
and a few other ones available:
Neudorf Moutere Pinot Noir 2005 $55: from the Nelson district, dark cherry with mild, light tannins and a decent aftertaste. 90/100
Ata Rangi Crimson Pinot Noir 2006 $25.50: the second tier pinot, the main one retails for ~$68, obvious notes of red fruit but a bit too light on the palate for my liking, I thought this could have more pizzaz. 89/100
Friday May 4th 2007
Yes, we're finally into the month of May, when days grow short and the rains herald time to celebrate with fatty meats and rich drink (any excuse would suffice really).. I got up early to receive my delivery of Wagyu beef eye fillet and Kurobuta pork belly from Wangara Poultry & Game Co.! That's 3kg of beef and 4kg of pork of mouth-watering, saliva-inducing, palate-coating fatty meat!!! This Security Foods Wagyu if from 500 day grain fed beef, nice firm and consistent meat, great-looking marbling and based on my immediate attempt and a quick seared fillet, very juicy and succulent in the middle. The slab of Kurobuta pork belly was simply divine! Firm texture, swinging the thing could certainly slap the teeth out of anyone. From half a side, it came with a rack of ribs which will serve me as a rich soup. I worked through both pieces (I knew dissection skills would come in handy outside of normal working purposes!) and deep froze away a fair amount. I've got 2 beef fillets being confit'd up, marinating 24hours in the fridge with salt, rosemary and thyme.. while I pan-fried up a pork fillet with fresh cloves of garlic and baby garlic sprouts.. and I've thrown in a butter-seared lobster tail on chilli'd fusilli tris for the heck of it..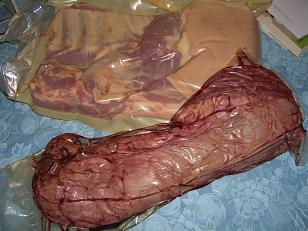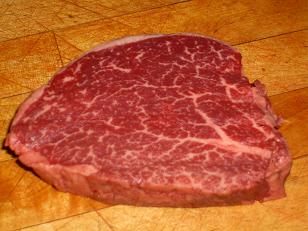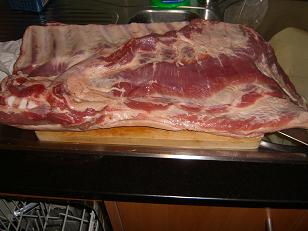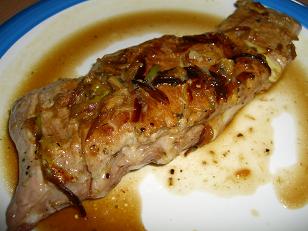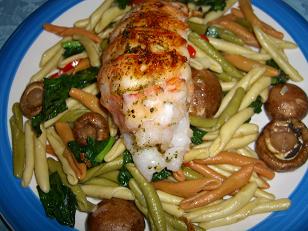 Butter seared lobster tail on fusilli tris with swiss brown mushrooms and tuscan cabbage