4th May 2008: Yarra Valley surprises + moving up North!
My previous encounters with wines from the Yarra Valley wines had left me with the impression that the entire region had lost focus and was completely derailed; so much so that I can't even remember when and what the last wine I'd ever had from that region was. Frankly, might as well rip up all the vines if you're not bothered to put a decent wine out on the market. Perhaps a major problem is the inability to be honest with one's self and admit that some of the wines being made have been of lesser quality which fails to match up to the tastes of the more discerning drinker.

That is why I was pleasantly surprised to see some Wedgetail Estate wines on tasting at PWS. Surely they haven't found something decent, I wondered to myself. And half-decent stuff it was indeed, although I felt the price was little steep. What irks me about the Yarra Valley, is that you've now got Chardonnay, Pinor Noir coexisting with Shiraz and Sauvignon Blanc? Does anyone share my sentiment that there's something strangely wrong about that relationship? But perhaps the change in climates have favoured the former and contributed to the gradual turn away from the latter. It would be serendipity if the reputation of the Yarra Valley is reinvigorated as winemakers reinvent themselves and get their hands stuck into new types of grapes. Dare I say, Aussie/New-World Burgundy?

Wedgetail Estate Single Vineyard Chardonnay 2006, Yarra Valley, VIC
$32-36. Winemaker Guy Lamothe has produced quite a beauty from this single hill-side vineyard. Quite decent tonnage, 2ton/acre which is hand-picked in the coolness of the early mornings. Spent 10months in barrel, 25% new French so there is a clear presence of oak in this one. I'm getting floral scents mingled into sweet talc and light fruity aromas. Fresh fruity flavours, some acidity but I think it could do with a bit more as its finishes with a bit of fat on the sides. A decent, lively Chardonnay certainly, but I see this more as a $25-value. 89/100.

Wedgetail Estate Single Vineyard Pinot Noir 2005, Yarra Valley, VIC
$38-45. This is another interesting offer from Wedgetail Estate. A single vineyard Pinot Noir, cropped at 1.5ton/acre and sees 25% new French oak for 12months. The final product is a fruit-forward, easy to drink pinot with aromatic notes of black cherry and slight touch of over-ripe strawberry. Only 5% whole bunch going in, so the level of tannins are into the ignorable level. Again, I feel this should be slightly cheaper for the market, probably $30-35. 90-91/100.

Kiltynane Estate Pinot Noir 2006, Yarra Valley, VIC
$42-50. An interesting biodynamic operation run by Kate Kirkhope in Tarrawarra. Vines are hand-picked in the coolness of the early morning, then 10% whole bunch goes toward cold maceration in a cold room which is followed by a warm wild fermentation stage. This wine is focussed, nice aromatic profile of undergrowth and ripe strawberry. Fruit-forward drink that is akin to the 2005 Burgundies sans the chewy raw tannins, although there are fresh tannins in this one which hold up the wine quite nicely amongst all that dark fruit flavours. But what's why all the over-priced decent Yarra drinks? Pick this up for $35-40. 91/100.

Giaconda Chardonnay 2007, Beechworth, VIC
$80-95. Rick Kinzbrunner runs a stellar operation down in Beechworth, but are his wines really worth their price tags? Only one white wine will be released for the 2007 vintage due to a reduction in crop volume. There will be no Nantua release, and fruit from that vineyard has been blended with the Estate Vineyard together with 11% Roussanne from the Aeolia. The result is a soft, yet elegant blend with notes of lemon citrus, creamy textures which are quite full on the palate and a rich aftertaste. 92/100.

Giaconda Shiraz 2006, Beechworth, VIC
$80-95. Notes of graphite and bristle-brush, freshly cut fleshy stone fruit with chewy tannins. Not bad stuff. 92/100.

Thomas Kiss Shiraz 2006, Hunter Valley, NSW
$45-55. Rich blackcurrant aromas mixed with some blackberry, this is a sleek, fruit-driven wine with spice dark berry flavours, touch of organic earth backed by the soft, ripe tannins. Elegant and savoury. 91/100.
---
9th May 2008: Red, whites and the blues of Northeast Victoria
The North East of Victoria was on showcase at the Federation Square Victorian wine showcase. This brought together winemakers from Rutherglen and the King Valley with some representation from Glenrowan, Beechworth and the Alpine Valleys district. For me, this broad geographical categorisation encompasses a wide variety of grapes, ranging from chardonnay to muscat for the white varietals, cabernet sauvignon to durif for those who like a little more beef to their drink. The winemaking showcased is quite a spectrum as well and there is sparkling on offer up to the more serious, robust and full-bodied 'stickies'. The one region which has gained a well deserved reputation on the international stage has to be Rutherglen with its historical stocks of ancient, rare soleras containing mind-numbing muscats and tokays which embody a uniqueness that can't be found anywhere else in the world.
Beyond the fortifieds, I haven't actually been a fan of anything else, and admittedly, I haven't come to appreciate durif as much as some others might. That said, I did give most a fair go, so here are my notes. Overall, there were some decent Chardonnays to be had while Rieslings were well-below average. On numerous occasions, after tasting I'd think 'If you're not even bothered about quality, why bother?' Ok, that might be a mean line to tread given the drought and very bad patches that growers have gone through in recent times, but I think wine is a luxury product that demands the quality to be attached to. I did not take notes for most of the fortifieds as it got rather tricky balancing a messy glass, sticky pen and a crumpled tasting sheet towards the end of the night. I did stock up on Morris' fortifieds to bide the coming winter months.

Whites
Amulet Vineyard Orange Muscat/Chardonnay 2006
$19. This actually smells quite decent, fleshy white stone fruit with perhaps a hint of orange. But a complete featherweight on the palate. 86/100.
Auldstone Cellars Riesling 2005
$17. Nice kerosene nose with fruity notes and a teaspoon of honey. But this lacks acidity and is fat in the mouth. 87/100.
Auldstone Cellars Chardonnay 2006
$20. Rich buttery nose but completely void of flavour. 84/100.
Boggy Creek Vineyards Riesling 2004
$20. Overwhelming kerosene nose. This is a dry-styled wine with mineral notes and bitey acid which needs to be firmed up better to make this wine more crisp. 88/100.
Boyntons Winery Feathertop Riesling 2006
$20. Youthful, fruity nose and fresh on the palate. Could do with a touch more acidity. 88/100.
Buller Wines Limited Release Chardonnay 2005
$17. Creamy nose with fruity characteristics coming through, light citrus flower. Good fruit weight and a vibrant, fresh aftertaste. 90-91/100.
Buller Wines Methode Champenoise 2006
$25. A 60/40 Pinot noir, chardonnay blend, quite a useful palate cleanser really. Light yeasty notes and unripe stone fruit flavours. 88-89/100.
Campbells Wines Limited Release Viognier 2007
$19. Too light and flabby. 80/100.
Campbells Wines Gewurztraminer 2008
$15. Fresh greenish aromas with a mingle of gooseberry? Soft fruity sugars but no finish. 85/100.
Chambers Rosewood Rosewood Riesling 2005
$8. Hints of lime on the nose and rather flat with diluted citrus flavours. 82/100.
Chambers Rosewood Light Muscat 2007
$13. Muted compared to previous years. Disappointing. 84/100.
Gracebrook Vineyards Stables Chardonnay 2005
$16. 8 months in new French oak. Creamy nose, but acids out of whack in this. 85/100.
Gracebrook Vineyards Block Riesling 2004
$22. Notes of honeyed fruit but fat and weak in the mouth. 85/100.
Gracebrook Vineyards Block Riesling 2005
$22. Straight nose of kerosene. Very different from the 2004, this has more minerality and some fruit weight, but this needs more acidity to firm up and has a weak finish. 87/100.
John Gehrig Wines Chenin Blanc 2005
$17. Example of why it might be used in a blend. Did not rate.
John Gehrig Wines Riesling 2006
$17. Yet another riesling which smelt of kerosene. Getting bored now. Fruity palate but not crisp enough. Zesty finish, but doesn't hold it together. 86/100.
Jones Winery Winemaker Marsanne 2007
$20. Flabby! 84/100.
Pfeiffer Wines Chardonnay 2005
$17. Fat and boring! Did not rate
Sam Miranda High Plains Riesling 2004
$16. Like diluted water. 80/100.

Reds
Calico Town Sparkling Shiraz
Like taking a shiraz, mixing it with fizzy water, adding green peppercorns for the nose and white pepper for the flavour. Confused. 82/100.
Buller Wines Calliope Shiraz 2004
$35. Vanillin oak, burnt caramel (crusty pork chop), touch of uneven graphite. Sullen flavours of yellow plum fruit. 89/100.

Fortifieds
All Saints Estate Rutherglen Muscat $20 89/100
All Saints Estate Rutherglen Tokay $20 87/100
Anderson Winery 'Melanie' Sweet Shiraz 2005 $25 89/100
Auldstone Cellars Liqueur Muscat
$27. From Glenrowan, pleasant raisin aromas, not burnt out caramel, luscious texture, medium-bodied and a warm aftertaste. 93/100.
Buller Wines Fine Old Muscat $20 91/100
Campbells Wines Rutherglen Tokay $17 (5-6 year old stock) 91/100
Campbells Wines Liquid Gold Tokay $35 (10-12 year old stock) 92/100
Campbells Wines Rutherglen Muscat $17 93-94/100
Campbells Wines Classic Muscat $35 93-94/100
Chambers Rosewood Rutherglen Muscat $10 89/100
Chambers Rosewood Rutherglen Muscadelle (Tokay) $10 88/100
John Gehrig Wines NV Liqueur Muscat $40 90-91/100
Jones Winery Muscat $30 90/100
Morris Wines NV Liqueur Muscat $15 93/100
Morris Wines NV Liqueur Tokay $15 93/100
Morris Wines Premium Muscat $68 94/100
Morris Wines Premium Tokay $68 96/100
Pfeiffer Wines NV Old Distillery Classic Rutherglen Tokay $25 92/100
Pfeiffer Wines NV Old Distillery Classic Rutherglen Muscat $25 90-91/100
Rutherglen Estates NV Muscat $20 92/100
Stanton & Killeen Wines Vintage Port 2002 $29 92/100
Stanton & Killeen Wines Classic Rutherglen Tokay (12 years old) $29 91/100
Stanton & Killeen Wines Rutherglen Muscat $17 92/100
Stanton & Killeen Wines Classic Rutherglen Muscat (12 years old) $29 93-94/100
---
10th May 2008: Karra Yerta
I think if you scan down the list of definitions for 'Hard-working', you'd eventually read across 'James and Marie Linke', the most down-to-earth, god-honest couple you're ever going to encounter through the entire wine producing regions of South Australia. Admittedly I have been slow mentioning them on this site, purely and guiltily due to my own desire to have more of their stuff available to myself. This is a miniscule operation by all accounts, barely a few hundred cases each year! If there's one label for the hardcore collector, this is without a question of a doubt, it! Walking down the weed over-grown slopes and through the comfortable looking rows of vine, there is minimal intervention occurring so what you get ultimately is indeed nature's gift. Tucked around the corner from the neat olive trees growing out front from Chris Ringland's out-of-place lookin' home, the Linkes have been creating unearthed gems on their own; and in recent times with the help of top-notch wine-brains. Their two primary varietals are shiraz and riesling. Overall, the shiraz is rich, fruit-forward; not heady, overly ripe by any account and is sure to put a smile on anyone's frown. The rieslings are very much a wine-education in themselves and I'd highly recommend tasting across vintages in a single sitting to fully appreciate the difference in winemaking styles as you traverse the gap from the fruity, sweet style to one of minerality and lime peel. They are looking for good representation in the Melbourne market, so if there's anyone out there interested, please contact them directly or I'm happy to the word on as well.

Karra Yerta Barossa Valley Shiraz 2004
$30. If you didn't have this stocked by now, you're out of luck - it's sold out. 14 months in American and French oak. Shiny dark cherry skin colour, this has a floral nose with some jammy characteristics. Well-rounded wine with salivating blackberry flavours backed by a good balance of tannins, but perhaps a touch of alcohol heat. 91/100.

Karra Yerta Barossa Valley Shiraz 2005
$35. Even more appealing than the 2004 version, this spent an extended time in oak - 28 months in American and French oak. Made with the assistance of Peter Schell of Spinifex (another one of my favourites), this is black-purple in colour and exudes aromas of crushed dark berries and a hint of freshly motared cocao beans. A smooth and elegant drink, mid-weight, well-balanced tannins, dark fruit flavours sit on the palate so lightly and has a fleshy feel. Drink over the next 7 years. 93/100.

Karra Yerta Bullfrog Flat Shiraz 2005, Eden Valley
$30. Only 64 dozen produced. This spent 24 months in French oak, and is dense, black ruby in colour with a hint of copper on the rim. A seductive nose of dark, fleshy fruit with hints of hot stone, soft spice and chocolate wafer. This has distinct characteristics of a cool climate shiraz, it's medium-bodied, matched perfectly with the right fruit weight and has a residual flavour of dried sour plum. I feel that the tannins are still resolving, so a revisit in 3-4 years will be necessary. This would go perfectly well with ash-baked chicken served with a side of fresh, icy-cold crisp salad. 93+/100.
---
21st June 2008: Clonakilla
Well, it's pretty much obvious that I've been lagging behind in my drink over the past few weeks. Thesis writing has come to the forefront of my priorities and unfortunately, I have come to realise that a generous tipple does not really facilitate good scientific writing. But now that I've got one chapter down to pat, I felt it was time to put up a few updates, starting off with some Clonakilla.
No doubt, many a serious wine drinker has been put off by foul, sugar-dripping, schizophrenic Australian Shiraz-Viognier. There are many bad examples on the market in a ratio that does not favour a random selection. These over-ripe, fruit-on-a-bong products were simply riding a tidal wave of discovery and popularity created by the seismic acknowledgements when Tim Kirk, holder of reins at Clonakilla (www.clonakilla.com.au) took this Northern Rhône style mainstream.

The typical syrah-viognier blend claims fame from Côte Rôtie located in the northern Rhône wine region of France. The vineyards are situated around the township of Ampuis and are sited on very steep, south-facing slopes which are exposed to long hours of sunshine hence the literal translation of 'roasted slope'. Approximately a fifth of vines are viognier, and as part of AOC rules, all wines must be syrah with up to 20% of viognier that must be co-fermented. The wines of this region are typically very aromatic with notes of bacon fat, complex, elegant, and very age worthy.
The Clonakilla vineyard is ~40km out of Canberra at Murrumbateman. Established in 1971 by Tim's scientist father, John, this operation has now grown to producing about 10,000 cases per year. The flagship is without doubt the shiraz-viognier blend, an Australian benchmark for this style that rivals the Rhône-esque wines of Torbreck. Their straight viognier which was first produced in 1998 is also a ringer for the wines of the Condrieu region. I have always been impressed by Tim's wines which have always provided fantastic value since they consistently punch above their prices. After a terrible 2007 vintage which saw yields being reduced to 20% in some vineyards, the 2008 vintage was very good with slow ripening conditions and the desired nocturnal temperature drop-offs.

Tim was in Melbourne recently and I tasted through four of his wines. I received their autumn newsletter a couple of months back but didn't place an order this year as I've decided to hold out for the 2008 releases. However, I'd recommend anyone to have some 2007 Hilltops Shiraz within reach. This year also sees the release of a new O'Riada Shiraz.

Clonakilla Nouveaux Viognier 2008
$23-27. 212 cases produced, fermented in stainless steel tanks and bottled early, this has captured a good proportion of the crisp, fleshy fruit flavours of viognier. I thought the colour on this was a shade darker than the usual, in a light golden way. Aromas of line, slatey talc powder with rich fruity flavours, lemon and lime rind, then finishing very long. 92-93/100.

Clonakilla Hilltops Shiraz 2007
$25-30. 3500 cases produced. I was apprehensive about the quality of the 2007 wines, based solely on what I had heard about the draught, frost, ripening conditions. Well, obviously I know nothing about winemaking because this Hilltops is quite a ripper! Dry growing conditions reduced yield, but the fruit that made it through had concentrated sugars and flavours. An opulent blackish-red colour to this one, focussed and dense aromas of perfumed dark fruit wafting from the glass. Good flavour profile of liquorice and dark, ripe berries followed by a compact and pleasing finish. I think this will drink well over the next 5-7 years, but maybe have a few lying around for longer? 90/100.

Clonakilla O'Riada Shiraz 2007
$35-45. 240 cases produced of this first-timer named after John Kirk's Irish musician cousin. Fruit selected from 5 vineyards around the district, pre-ferment maceration, some whole bunches, warm extended ferments, 2% overall co-fermented viognier and 12 months maturation in 35% new French oak. Nice aromatic nose of blackcurrant, red berries, touch of savoury spice. Lively drink, medium-bodied, a decent level of fruit, tannins slightly softer than the Hilltops. Drink over 5 years. Some magnums available. 91/100.

Clonakilla Syrah 2006
$80-95. 1200 cases produced, straight syrah from the Murrumbateman vineyard that had been blended into the shiraz-viognier. Whole bunch ferment in native yeasts, 3 weeks maceration on skins followed by 20 months in 40% new French oak. A strange one to me, quite like a Hermitage, there are aromas of sullen red fruit and smoked meat. A fine drink no doubt, lighter in structure than you'd anticipate, flavour-wise soft and elegant with a touch of bitterness at the end. I'm not sure how this would turn out, Tim suggests cellaring for 5-10, while Campbell Mattinson says 2016-2028. 92-93/100.
---
28th June 2008
It was third time to Rockpool last week for a friend's birthday dinner. Our starters included a very nicely portioned wood fire-grilled vegetables with a tiny dollop of fetta, duck ragu with pappardelle noodle which was nice but we could have done without as it was on the heavier side of serves, and my all favourite starter of this establishment: the slow-cooked egg with bone marrow on brioche with red wine sauce. The 2005 Domaine de Villeneuva Chateauneuf du Pape Vieilles Vignes was decanted for about an hour before it was served up over our mains. It was rather restrained and heaps tannic but that weighed up very nicely with the pure meaty flavour of my rare 33-day aged 36-month old grass fed sirloin on bone (400g). The sullen organic flavours of the cut which tasted better with an almost nutty-like béarnaise sauce served to fill in the gaps between the heavier tannins and the soft, pepperish fruity undertones. The sautéed mushrooms were once again not a let down, despite the feeling that it was more oily than usual; the potato and cabbage gratin was nice, the softness of the cabbage lifted the heavy potato and cheese flavours but we could have done without this side on this occasion because it was in direct competition with the meats for stomach space.

Domaine de Villeneuva Chateauneuf du Pape Vieilles Vignes 2005
A restrained nose of pepper, drying herbs, rich soil with dark fruit undertones. Surprisingly medium+ to high tannin levels for the rich, fruity 2005 vintage. Elegant blackcurrant, raspberry flavours in this well-balanced medium-bodied wine, good acidity and weighty mid-palate. The wine simply opened up after 2-3 hours into a lovely floral bouquet. This will be happy to sit for the 2-3 years then should drink well till 2018. 91-92/100.
---
6th July 2008
A somewhat productive week at thesis writing has been promptly rewarded with a few bottles. Reds no doubt, not just because of the 4th July celebrations otherwise I'd be forced to have an equivalent volume of whites as well, but with the weather turning down 2-3 notches on the degree scales, some fresh French pork and duck sausages were the order of the weekend. In turn, this was the perfect opportunity to check out some New World rebels masquerading the French style (Chinon, Loire Valley & Bordeaux) as a preliminary to the upcoming celebration of Bastille Day.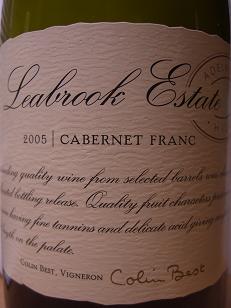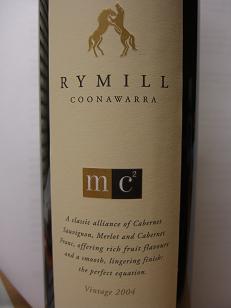 Leabrook Estate 2005 Cabernet Franc, Adelaide Hills
$25. Black, blood red colour. Velvet nose of savoury cigar box, herbs and liquorice on a core of dark fruit but a hint of raw greenishness. Rich, dense medium-bodied drink, high level of soft dry tannins. Soothing finish. 91/100.

Rymill MC2 2004, Coonawarra
$22, A blend of 45% merlot, 45% Cabernet Sauvignon, 10% Cabernet Franc. This spent 20 months in new and older French barriques. A nice dark red colour, soft nose of meaty juices, red berry and aniseed. Dry tannins, this lacks personality, very boring and certainly not worth the price tag. 85/100.

Poonawatta Estate 2006 Monties Block Shiraz, Eden Valley
$28. A small production of 10 French barriques totalling 2900 bottles. Fruit sources from the 1880 plot or the Cuttings plot, both of which are a small 2 acres each. It would be worth the time to source for the 1880 and The Cuttings bottlings to compare these three siblings against each other. A somewhat high 15% alc, black ruby colour, this easy drinking, medium-bodied wine has notes of blackcurrant liquorice, holds up with fleshy tannins, greenish finish and a touch of alcoholic heat. 88/100.
---
7th July 2008
One will undoubtedly agree with this passing statement: Domenic Torzi is of the most exciting boutique winemakers to gained popularity in recent years with his no frills, minimalistic approach to wine crafting. And yes, of course keeping his prices reasonable and hence having wines in staking a serious claim to the 'Best Valued' tag certainly helps as well. I recently ordered a batch from Domenic, including the much anticipated Schist Rock. Unfortunately the 2007 Frost Dodger hadn't been released then but it's definitely on my next purchase list.

Longhop La Quattro 2008, Adelaide Plains
$17. An interesting blend of four varieties - 28% Chenin Blanc, 28% Riesling, 22% Semillon and 22% Sauvignon Blanc from not-so-young vines (50+ years old) is a project by Domenic Torzi and Tim Freeland. Straw coloured with an enticing nose which grabs you with notes of citrus, pear and grass. Softer on the palate, fresh acidity works well on the minerally backbone of lemon/fridge cold-fruit flavours with a dry finish. 88-89/100.

Torzi Matthews 2007 Frost Dodger Riesling, Eden Valley
$20. Light, sunflower gold, this is not shy at all, a broad open nose of lemon rind, touch of kero and rich tones of tropical fruit and grapefruit. A leaner flavour profile, this 12.0% alc, medium-bodied wine is held by fresh acidity with generous lemon flavours. 89/100.

Veronique 2006 Regions Shiraz, Barossa Valley
$19. A wine made by Domenic Torzi for Peter Manning. The grapes were sourced from Greenock Creek, Angaston and Lyndoch, matured in French and American Oak. Nice, dense purple colour with a good core of black fruit. Fruit forward style, dark plum, touch of prune, uplift of cacao bean and carbon. This is a well-rounded drink with sweet tannins. The oaky characteristics become more prominent on the second day. Drink now or cellar for 3-4 years. Good with char-grilled chicken breast drizzled with a herby tomato sauce. 89/100.

Longhop 2007 Old Vine Grenache, Adelaide Plains
$20. Fruit from 50+ year old vines off a single vineyard was handpicked for 25% whole bunch open ferment before basket press then 13months in seasoned American and French oak hogsheads and barriques. Lovely ruby colour, light aromas of raspberry and earthy Rainier cherry. Fleshy tannins with soft, sweet fruity profile gives this a supple finish. Have this with a fresh Chicken Caesar salad with a good topping of Reggiano. Drink over next 4-5 years. 88/100.

Torzi Matthews 2007 Schist Rock Shiraz, Eden Valley
$18. The baby brother of the Frost Dodger, this is fruit that does not make it into the Frost Dodger yet gets the full treatment in ex-FD barrels. 15% whole bunch, open top fermented by wild yeasts, soft pumping over, basket pressed then into the barrels. Additional treatment through two-year old 75% French / 25% American hogshead barriques before being bottled unfiltered. Wow! This is more French than Domenic is Italian! And I mean that is the most complimentary way! Brilliant aromas of spice, plum and dark berries followed by an equally satisfying core of plum, spicy berry flavours and a touch of dark chocolate at the end. Long, flavoursome, satisfying. Great value! 89-90/100.