Sunday 28th October 2007
The cellar door for Kellermeister/Trevor Jones is nicely situated atop a hill in the Lyndoch region of the Barossa which, depending on the season of visit offers a view of purple lavender or golden yellow marigolds. There is a good range on offer, for pretty decent prices at that. A good introductory winery, certainly, for anyone just getting into SA wines with options on the white or red end of the scale. Nothing over the top, mostly easy to drink and something you'd have over dinner with friends.
Kellermeister Red Frontignac 2007: $15.50. Not often that you find an offering of the red frontignac grape. Fruit were picked in the cool of the night, and treated in controlled cool fermentation. Dark crimson colour, sweet fruity nose but simple tastes, I'd even say a let down on flavour and palate. Soft and weak. Good with your usual asian stir-frys. 86/100.
Trevor Jones Cebo Rose 2007: $14. Primary made from muscat, with some cab sauv thrown in for more structure and colour balance. Crimson colour, with typical grapiness from the muscat and light hints of apple(malo?) for this simple drink that has a decent fruit profile but lacks a similar finish. Good with buttered prawn salad on ice crisp salad. 87/100.
Kellermeister Cabernet Sauvignon 1999: $22.50. Matured for 12 months in French Nevers oak. Earthy tinge to the dark red colour. Notes of liquorice and dark cherry and flavours of red fruit. The tannins have mellowed out now, and it's starting to go soft. 87/100.

Kellermeister GMB Cab Sauv/Shiraz 2003: $23.50. Gold Medal Burgundy blend of 50/50 CS/Shiraz that spent 18mths in French Limousine oak. Dark red colour, nose of vanillin, perfumed with violets and purple fruit. Toned down in terms of flavours, good finish. 88/100.
Kellermeister Black Sash Shiraz 2004: $32.50. From 50yo vines and aged in 100% French oak. Dark ruby colour. Intense concentrated nose of dark cherry and plum with lingering oak. Tannins are youthful, good palate but the finish is stingy. Could probably keep for awhile though. 88-89/100.
Trevor Jones Wild Witch Shiraz 2001: $50. From 100yo vines, this spends 2.5years in 100% new French and American oak. Open, intense perfumed nose followed by simple flavours of currants and red fruit, but the tannins are still obvious. Have with your pepper-sauced char-grilled steak. 89/100.

Kellermeister Frontignac Auslese 2006: $18. Pale golden in colour. Notes of orange blossom, lime and citrus. Rich sweet flavours, crisp and not overly intense and overpowering. Good pairing with spicy Thai onion salad. 90/100.
Trevor Jones Sticky Boots 2002: $15. An 11.5%alc blend of botrytis semillon and verdhelho. Light golden colour with nose of stewed apricot. Semi-sticky with an almond-like finish would be a good pairing with nice washed rind. 90/100.
Kellermeister Eiswein 2006: $24.50. Made from late picked riesling which were chill frosted down several times for the juice to freeze. Rich honeyed flavours with good malo content, crisp yet not sweet like what you'd expect of icewines. Mallow flavours finishing with a taste of ripe strawberries.

Kellermeister Sylvaner Mistelle 2006: $15. This is for those of you who enjoy chasing down odd varietals. Sylvaner is a riesling hybrid and mistelle referring to the French process of fortification for juicing purposes, not wine. Coming in at 15.0%alc, this light honey gold coloured wine has a nose of pearled pear, wasabi seaweed (I was the only one who got this on the day) and luscious flavours of pear and citrus. Very good flavours and finish. Unusual offering, and I'm curious to see how this will develop over ~5 years. 90-91/100.
Kellermeister Sable: $15. Made from a base of ruby port, dark German chocolate was added with 3yo brandy. The nuances of chocolate is the most prominent feature of this unusual style, with rich caramel flavours this is an excellent way to end off dinner just before your coffee. 92/100.
Thursday 25th October 2007
The 2005 vintage of the Kay Bros Amery Block 6 is a smashing attempt that surpasses previous releases. Limited to 2 bottles per customer upon purchase of another 4 bottles, the 113th release has seen a price adjustment to $55. Good growing conditions in 2005 produced excellent quality shiraz grapes which have been worked beautifully by Colin Kay, giving a flagship shiraz that is amongst the best that SA has to offer.

Kay Bros Amery Block 6 Shiraz 2005: $55. Handpicked grapes from the 4-acre Block 6 vineyard in the 113th vintage of this benchmark McLaren Vale shiraz were of excellent quality and winemaker Colin Kay has made a near perfect beauty. Open ferments following by basket press and matured in 80% new American oak and 20% new Eastern European oak for 28 months for a final product tipping at 16%alc under stelvin. The inky, blackish purple colour gives a hint of the intensity of the nose which is primarily blackberry with dark chocolate undertones. There's also a hint of cinnamon and cool eucalypt. Rich and fulfilling flavours sweep the mouth, this has pure fruit essence, sweet spices, dark berry flavours come at you layer upon layer without let up. The tannins have been worked in very well to give an elegant backbone to this drink, staving away from previously chewy types. This is seamless, what a great drink! Should drink well in 3-4 years, and cellar for 15-20 years. 99/100.
Wednesday 24th October 2007
Oliver's Taranga is a winery in McLaren Vale that has taken a modern-esque appearance with the new cellar door having come a very long way since the days of an old stone cottage. Currently run by fifth and sixth generation Olivers, this huge operation boasts 100hec of vineyards of various red and white varieties. While some crop is contracted growing, Don and Marg Oliver have enough to supply their winemaker niece Corrina for at least 10 labels. On the day, I made a last-second turn into the Taranga property and was served by Margie at the cellar door. It was impressive to see a good number of varieties represented in small production projects, and I was very impressed with the quality of their straight shiraz which I've had in the past.
| | |
| --- | --- |
| | |
Oliver's Taranga Vine-dried Cabernet 2006: $28, 4400 cases produced. 25% vine-dried for this Amarone-styled wine, giving a rich menthol-ed nose paired with an intensely flavoured drink with balanced tannins levels and a good finish. 91/100.
Oliver's Taranga Grenache 2006: $28, 3080 cases produced. A bit dryish but sufficient fruity flavours which definitely makes this a food wine. 88/100.
Oliver's Taranga Tempranillo 2006: $28, 1120 cases produced. Another food wine here with good fruit load and spice. 89/100.
Oliver's Taranga Viognier 2007: $18, 1856 dozen produced. Did not take notes.
Oliver's Taranga Sauvignon Blanc 2007: $18, 1430 dozen produced from the Adelaide Hills. Did not take notes.
Oliver's Taranga Shiraz 2005: $28. Nice deep colour with notes of savoury spice, liquorice and dark chocolate. Not as powerful or as fruity as some of the other 2005 offerings but good in its own right with abundant flavours of spice and dark fruit. 90-91/100.
Oliver's Taranga Corrina's Blend 2005: $28. Blend of 55% shiraz and 45 cabernet. Floral nose with a hint of herb obviously from the cabernet, accompanied by fruity flavours on the mid-palate from the shiraz held together by chewy tannins. 91/100.
Oliver's Taranga HJ Reserve Shiraz 2004: $45. Fruit from the oldest parcel of land planted in 1948 are specially selected for this release. Aged in new French oak for 30months and another year in the bottle before release. Drinkable right now, but this spicy, fruit-driven wine will benefit from 3-4 years of cellaring and will last for at least 10-12 years. 92/100.
Marg also allowed me a peek of a label bound for the US-market, the Revolution Shiraz which will retail ~USD$20 by Epicurean. This unfiltered wine of 15%alc is made in a semi-sweet style and would be perfect for a rare, chunky bbq'd steak. There is also another label, the Expatriate which is also export only and will retail ~$40.
---
Primo Estate was established in 1979 and now boasts a modern, swanky looking cellardoor in the McLaren Vale. Run by Joseph Grilli, this Italian-touched operation offers two labels and award winning olive oils. The Primo Estate is the entry-level label, while the Joseph label is recommended as a sit-down tasting with cheese and crackers. An interesting bottle worth chasing down is the Joseph 'la magia' Botrytis Riesling Traminer which is sold out at cellar door. This creation earned Joseph Dux when he graduated from Roseworthy and produced from grapes self-inoculated to ~35% botrytis.
Primo Estate 'la biondina' Colombard Sauvignon Blanc 2007: $15. Good QPR. 89/100.
Primo Estate 'merlesco' Merlot 2006: $15. 87-88/100.
Primo Estate 'Zamberlan' Cabernet Sangiovese 2004: $28. Good structure. Good food wine. 89/100.
Primo Estate 'Shale Stone' Shiraz 2005: $32. Grapes from McLaren Vale and Clarendon. Very soft, weak wine as the aftertaste just fell away. Not enough oomph. 87-88/100.
Theodore's note: mid-palate strong. backup palate lacking. bitter ubiquinone.
---
Tuesday 23rd October 2007
A standout at the North-East regional Fed Sq Showcase worth keeping in mind was Smiths Vineyard. This small operation is the oldest in existence in Beechworth, a region that produces quality chardonnay, pinot noir and riesling and more commonly associated with Giaconda. Residing at 550m altitude, Smiths has been around since 1978 when they grew grapes for Brown Bros. and has now turned to focus on producing a small turnout of 1500 cases from a mere 3.2hec overseen by winemaker Will (no, he's not a Smith but look out for his Flamsteed label produced with his brother)..
Smiths Vineyard Chardonnay 2006: $34, 400 cases produced. Matured in 15-20% new French oak coupled with ~10% malo and a wild yeast ferment. Clean yellowish tinge for a colour, there a uplifting nose of citrus, melon and stone fruit. Good flavours present in this elegant wine which should live for the next 5-7 years.
Smiths Vineyard Cabernet Merlot 2005: $25. Two-thirds Cabernet, one-third merlot which gives this blend a bit of a lift structurally. A lighter styled wine with notes of plum and capsicum and followed up with red berry flavours and spice backed by soft tannins. Good, should drink well over next 5 years. 89/100.
Smiths Vineyard Shiraz 2006: $25, to be released in Feb 08. The first vintage of a shiraz/viognier blend from this winery. The shiraz is from 14yo vines with 3-4% viognier added via whole bunch coferments, followed by 12 months maturation in 2nd year round French oak. Uplifting perfumed nose, but comes across as being a feather weight which is elegant and soft. Turns out to be medium-bodied on the palate with soft tannins and decent fruit levels. Good finish. 90/100.
---
Monday 8th October 2007
There wasn't too much on offer by way of fortifieds at the North-East regional Fed Sq Showcase. Quite disappointing, since the Rutherglen is arguably a Mecca for fortifieds, be it muscat or tokay (whoops, are we legally obliged to not call it that anymore?). RL Buller did not have any fortifieds on the evening, instead choosing to push sales of their reds and the Calliope durif and shiraz. Chambers Rosewood was not represented, another disappointment, as their casual drinking sweet table whites are certainly a treat. But I managed to collect a standing order of 6 Calliope Rare Tokays from RL Buller, and had reacquainted myself with Ben, the cellardoor manager of Morris, which was timely as that allowed me to squeak a tipple of their Rare Muscat and Tokay.
Wood Park Wines Brut Rose 2006, King Valley: $28. Clear, light ruby colour. Nose of strawberry and yeasty notes. Ok, but not crisp enough for me. 87/100.
Anderson Methode Champenoise Shiraz 1999, Rutherglen: $28. Garnet colour. Rich, earthy dungy nose with great flavour but is quite primary with the presence of sweet residual fruit. 89/100.
Anderson Vintage Port 2003: $19.50. Made with brandy spirit, has a weak nose, dry style, decent fruity flavours with finish is rather soft. 86/100.
Auldstone Cellars Liqueur Muscat, Glenrowan: $25. Nose of light raisin, but nothing spectacular. Soft flavour profile. Nice aftertaste though. 87-89/100.
Calico Town Wines 'Au' Tokay: $30. 'Au' being the symbol for gold on the periodic table. 88% 20yo stock with 2% 100yo and the remainder topped up with new press. Cologne rich and intense nose, Lightish texture, not a sticky syrup. Good rain flavour and a nice aftertaste that lingers lightly. 89/100.
Campbells 'Liquid Gold' Classic Rutherglen Tokay: $35. Light-weight all the way through. Light colour, nose and raisiny flavours with good finish. 89-90/100.
Campbells Rutherglen Muscat: $17. At least 3-4 times darker than the Liquid Gold. Light nose of walnuts and raisin. Light feel in terms of flavours and the aftertaste is abit soft. 89/100.
Campbells Classic Rutherglen Muscat: $35. Half a shade darker than the Rutherglen Muscat, its got a more intense, savoury nose with sticky raisin flavour profile. Intense aftertaste which drops off. 91/100.
Jones Winery Apero Port, Rutherglen: $25. Made from PX and trabbiano. Serve chilled, its got a light nose and flavours. But I think the sugar/acidity is abit high. 87/100.
Jones Winery Ruby Port, Rutherglen: $18. Made from shiraz. Soft nose but there's some brooding intensity. Flavour-wise ok, but abit blunted. 88-89/100.
Rutherglen Estate N/V Muscat: $20. Raisiny + copper tones. Light nose of raisin that flows through onto the palate with a luscious, syrupy feel despite a light flavour profile. Soft aftertaste. 88-89/100.
Stanton & Killeen Vintage Port 2001, Rutherglen: $27. Dark colour, good clean nose of fruitiness. Flows softly, good finish. 88-89/100.
Stanton & Killeen Classic Rutherglen Muscat: $27. Avg age 12 years. Rusty gold colour, pleasant nose, great flavour of raisins. Quite developed and rich flavours with a light accompanying finish. 92/100.
Stanton & Killeen Classic Rutherglen Tokay: $27. Avg age 12 years. Subdued nose with light honeyed, malt flavours. Light finish. 90/100.
Scion Sweet Durif 2006, Rutherglen: $22. Made with neutral spirit, this sweet fortified red of darkish crimson colour has a toned down, light berry nose with nice clean fruity flavours on the palate. Recommended pairing with moderately dark chocolate. 88/100.
---
Sunday 7th October 2007
I wish people would leave some comments on the tag-board in the right column.. it's feeling lonesome and unloved.
Couple of bottles that I had purchased for a casual work event. The Patrick T Riesling was purchased based on previous impressive from the Coonawarra roadshow, notes which I have been tardy in putting together. I bought these wines at Parkhill Cellars along Errol St in North Melbourne just because I wanted an excuse to check out their store. If you want a quick bottle, they're not too bad for a stop.
Patrick T 'The Caves' Riesling 2004: Riesling from the Wrattonbully region harvested at 12Be, matured in stainless steel for a year. Marigold gold/yellow colour. Great nose of lime and mango. Fleshy palate has weight but is not too fat. Well-lengthed aftertaste which lingers after the mineraly finish. 91/100.

Two Hands The Lucky Country Cabernet Sauvignon 2004: ~$12. I'll declare that I'm not a big fan of the Two Hands model, although I'll say I appreciate their terrior strategy of making wines. This bottling is the result of declassification of 15-20% of the 2002 and 2003 vintages. In 2004, this is a Cabernet/Shiraz blend from Langhorne Creek. Earthy dark garnet colour. Greenish nose with hint of dark chocolate. Well-rounded palate, plum flavours but there's some acidity which throws the balance off. A bit soft by Two Hands standard. Positive note, the aftertaste does go on for a good length. Good buy for this price. 90/100.

Henry's Drive Pillar Box Red 2006: A blend of 53% shiraz, 37% cabernet sauvignon and 10% merlot from the Padthaway region made by Chris Ringland. Black red colour, burnt nose with sweet minty and dark berry. Palate is vibrant, with flavours of fleshy raspberry. Aftertaste is ok with soft tannins. Good finish. 88/100.
---
Saturday 6th October 2007
I've been rather slow in gathering my notes but will endeavour to work through them over the next few days. I'll be back in Adelaide next weekend, and hopefully I'll be compiling more information on several other wineries. This week also saw various wineries from Northeast Victoria at the Fed Sq Regionals Expo, mainly Rutherglen, but the King Valley and Beechworth were also represented. I made a few notes on some of the fortifieds but as this was a full-on public display, nothing substantial was on offer. Here's some Landhaus for now, which I had contemplated purchasing to try but was fortunate to be at Cloudwine when they had two bottles open.
Landhaus The Sinner 2006: $15. A blend of 40% Grenache, 40% Mataro and 20% shiraz from 60 to 85 year old vines which hasn't seen the daylight of oak. Light, clear ruby colour gives a hint of the tight nose with stingy offering of red fruit, followed by a leaness on the mouth. Clean, fresh fruity flavours with a mildly tingling finish. 90/100.
Landhaus The Saint 2006: $15. Fruit sourced from 70 year old vines from Greenock, Stockwell, Ebenezer and Bethany sub-regions. Aged in American and French oak. Dark ruby colour. I'm not getting much on the nose and the medium-bodied weight only yields a bit of fruit, finishing rather light. Did not rate on the day.
---
Kay Bros Amery, McLaren Vale
I haven't given much attention to the past 2 vintages of Kay Bros, in part due to my growing interests in the Barossa. However, my guilty attention was refocussed by RP after a glowing review of their 2005 Block 6 (96-99 pts). The last Block 6 I had was the 2003, and the high level of tannins are etched into my memory along with the impression that the American oak treatment left it very chewy. It was a good drink, not mind-blowing but certainly interesting enough to revisit my remaining bottle in a few years. I wasn't going to pass up on the opportunity to revisit the cellar door despite only a day of recovery to ease off the residual effects of a hard Artisans tasting 2 days before. I needed pick me up, so some good old fashion, honest crafted wine was just what the doctor ordered. (Not to mention the great pies you can get in the McLaren town centre)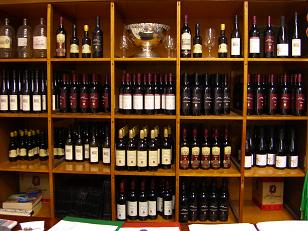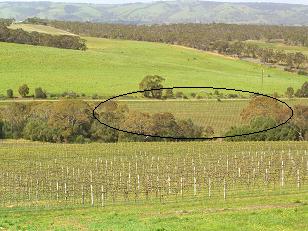 Kay Bros Eden Valley Riesling 2007: $20. Hand-picked grapes from 60 year old dry-grown vines produce a light, lime green coloured wine of 12%alc with citrus-y nose with a touch of minerality. Fresh palate of lime and green apple flavours which linger for a good length of time before finishing up cleanly. 89-90/100.
Kay Bros Amery Viognier 2007: $20. The first release of this wine comes from a tiny 0.7 hectare parcel of 6 year old vines that yielded 4.6 tonnes of hand-picked fruit which were basket-pressed. Light yellowish-green tinge, rich nose of pear, stone fruit and citrus. Flavours back up with pears, stone fruit, citrus and sweet melon that are crisp with light acidity. However, given all that was going on, I was disappointed that the finish ended a little early. 89/100.
Kay Bros Amery Moscato 2007: $17. Another first release, lightly coloured with a nose of typical muscat grape, white flower and honeysuckle. Only 7%alc, but flavours are nice and sweet with a slight fizz but not to the extent of the Italian-style. Bottled under stainless steel champagne crown seals.
Kay Bros Amery Late Harvest Frontignac 2004: $15. Handpicked on 8th March 2004, this 11% alc drink has a pale straw colour, green tinge, very pleasing uplifting nose of sweet flower, melon and passionfruit. Tropical flavours on the palate of honeydew, ripe melon and passionfruit, but is not overly sweet. The long finish is clean and crisp. 89-90/100.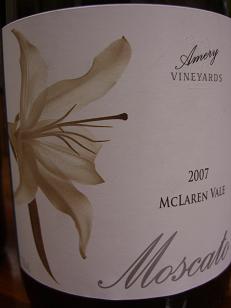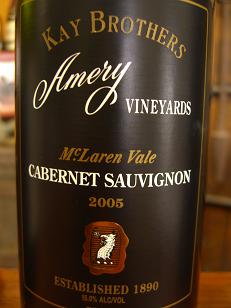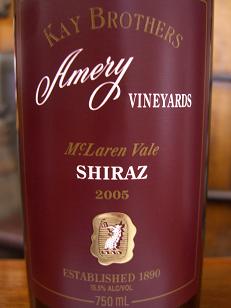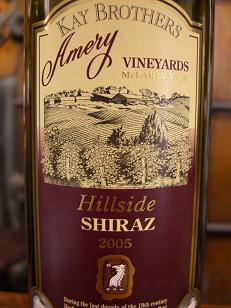 Kay Bros Amery Grenache 2006: $15. Only ~13tonnes of fruit went into this production. Grapes were treated with open ferment and a basket pressing before maturating in American oak for 1 year, resulting in a 15.5% alc, bright earthy ruby drink that exudes a sullen organic nose of raspberries. This drink is very different from the barossan grenaches as it's not big on the nose or forward on the palate. It's soft, medium-bodied, very rustic style which you'd have matching a nice herby but simple pasta dish. Good berry flavours, soft tannins and a good finish. Drinkable now, but should be good for the next 3-4 years. 89/100.
Kay Bros Amery Merlot 2005: $20. Grapes were treated with an open ferment and basket pressing before maturing for 18 months in American oak. A nice dark black cherry colour that's supported by aromas of plum, quince with a hint of mint. Medium-bodied drink that's got lots of primary fruit flavours, plum and dark cherry to go along with the chewy, dry tannins. Good length and well balanced. 88-89/100.
Kay Bros Amery Cabernet Sauvignon 2005: $20. Black cherry coloured with a shimmery hue. Lovely nose of blackberry, mint and eucalypt is backed up on the flavour profile with notes of mulberry, blackcurrant and cassis that are in balance with a fairly low level of acidity but propped up with a good, firm tannic structure. This is good to go right now, but imagine what it'll be like in 10 years! 91-92/100. A steal at this price.
Kay Bros Amery Shiraz 2005: $20. Dark ruby in colour. A prominent nose loaded with black cherry and blackberry with hints of savouriness. Fulfilling flavours of plums, blackberries and spice with a touch of truffle. Well-rounded profile that's not big in anyway, excellently balanced with tannin levels just right. Should last a decade too. 92/100. Another steal.
Kay Bros Hillside Shiraz 2005: $35. The 9th release of this mini-Block 6 shows of the success of replanting of the Eastern hillside of the Amery property with cuttings from the Block 6 vines. Grapes are open fermented and basket pressed before maturing in American and Bulgarian oak casks for 28 months. Coming in at 15.5%alc, this dark purple juice has a great nose of mulberries, touch of chocolate, star anise and a hint of vanilla. Rich flavours of mulberry, cedar oak and darkish chocolate complemented by the soft, ripe, chewy tannins. A long and satisfying aftertaste. Will develop nicely over the next 7-8 years. 93/100.
Kay Bros 'The Cuthbert' Cabernet Sauvignon 2005: $35. Limited to 3 btls when purchased with 3 other btls. The first release of this commermorative wine that celebrates winemaker Colin Kay's father, Cuthbert Kay whose father and uncle established the Kay Bros Amery vineyard. Extended post fermentation maceration with 24 months in new Hungarian oak barrels. Blackish ruby in colour, this 15% alc drink offers a bouquet of blackberry, eucalypt and tobacco that paired with a full-throttled flavour profile of blackberry and cassis that is in balanced with the dry finishing tannins. This is elegant, yet bold and stands out with its own unique personality, very much like a Jane Austen character. Very different from the equivalent 2005 Coonawarra or Margaret River vintages but certainly capable of holding itself up. Drink in 3-4 years just to allow it to settle down and should keep for more 10-15. 94-95/100.
Kay Bros Black 6 shiraz 2005: $50. Limited to 2 bottles per 6 btl purchase. Block 6 is a small 4 acre plot visible from the cellar door nearing the bottom of the slope from the accommodation cottage (top right, circled). 2005 was the 113th vintage of this highly sought after wine which undergo open ferment, basket pressing and maturation in 80% new American oak and 20% new Eastern European oak for 28 months, producing a dark, burnt, reddish purple wine that weighs in at 16%alc. This was not available for tasting on the day, so I will update this when I have the opportunity. Just for the score keepers, RP(96-99) and said to be better out of the barrel than the 2004 which was rated RP98.