Simple pallets, Seriously
I wouldnít drink thatÖ (Part 2)
After lunch in Tanunda and a quick stopover at Langmeil, we were due at Damien Tscharkeís tin shack which, oddly enough, I was actually driving past when I first called Damien last september. I had no idea that the non-descript aluminium building was the non-existent cellar door before the Two Hands turn-off that I had been looking out for or the fruitcake liquidator workshop as Iím inclined to call it from now on because of my opinion that the Glaymond Landlace is masticated fruitcake in a bottle. Also previously, I didnít know that he was THE Damien of Damien Tscharke since last names werenít all that important back then and I was only searching him out due to my curiosity and interest in the Glaymond line; but I know better now. So obviously, as if the name wasnít a dead giveaway already, the Tscharke line originates from the same whiz and is worked for varietals not commonly associated with the Barossa, such as Albarino, Zinfandal and Montepulciano. Damienís work area is an impressive area resembling a storage facility, with the main processing space in the front half, and the barrels and tanks behind. No time wasting here! It was straight to the back for some barrel tastings.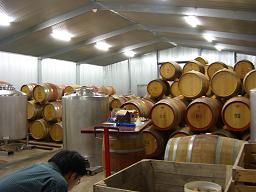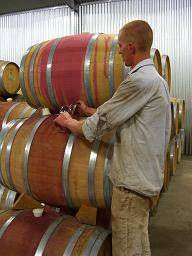 2005?6 Cab Sauv (is this going towards the As If?) Dark purple colour, with rich aromas and layers of flavours buried which I have no doubt will be shaken out of their shackles with age. Clean presence in the mouth with a neat structure of silky tannins, balanced acidity and alcohol. 92/100
2005 Grenache (did we try this?)
2005 Distinction Reserve Shiraz Ė Only 2 weeks in the bottle and at a staggering 16.8%? alcohol, itís amazing how sheer opulence can be amalgamated into a perfumed silky stocking of elegance, and held together in a body as tight as shiraz as has been achieved in this 2005 shiraz. Dark dense purple colour with a red edge, thereís a subtle mesh of blueberry, spicy chocolate roast. Silky texture, with compact tannins leaves the mouth bursting with flavours, concentrating on the front and mid palate, finishing with an aftertaste that goes for 20secs. This is the one to prove all who hold the stereotypic impression that barossan shirazes are ungainly lumbering alcoholic giants. Damien envisages this wine to be the epitome of all he has produced so far and as close as possible to the perfect wine in his mind. Heíll also be having 12 of these stashed in his personal museum collection to show his son what a perfect drink is. Hence, itís a downright shame that most of this is bound for the foreign market. I donít know what this is retailing for, but heck, when he thinks itís that good, Iím having me a dozen out the backdoor! 97+/100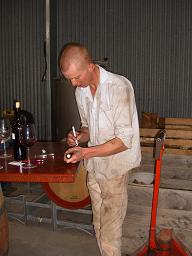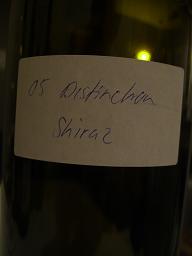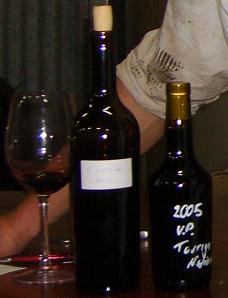 VP 2007 Made from the nacional variety that goes into official Portugal ports and still in the metal vats after having just been brandy-fied, the 2007 VP will spend 5 years before seeing the light of day. Damien has the view that 2-3 years is simply too short a time for vintage ports to be bottle and that the extended period of time this spends sitting, even in bottle, will only serve to enhance its characteristics. I was amazed at how pleasantly drinkable this infant is! Only 2 weeks old and still existing as a dark purple tarry broth, perfumed aromas wafted from the glass accompanied by a strong balanced see-saw of brooding flavours. 94-96/100
Our second stop was originally intended for a half hour, but as always, time flies when youíre in good company so by the time we rounded off, we were already 15mins past the scheduled time to be at Domenic Torziís place, so it was goodbye to DT and put pedal to the metal as we sped to Angaston (past Schulz Butchers which is supposedly THE place to get your cuts of meat), past the Yalumba vineyards, to the Torzi Matthews plant.
Domenic is a personable, stocky guy with Italian blood, and my first experience with him was nothing but positive when he offered to send me two bottles of the 03 and 04 Frost Dodger Shiraz following a less than flattering personal opinion of an 03. I thought Iíd mention that he posts every now and then on a local South Australian wine forum in case anyone would like to communicate with him.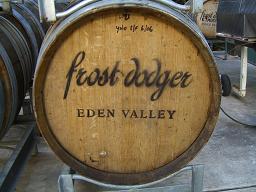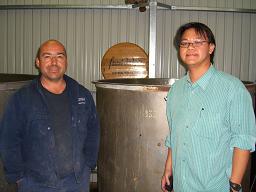 Domenic dabbles with the Torzi Matthews, Old Plains and Longhops lines, some/all of which are available for tasting at the valleytastings? outlet in Angaston. In addition, he also does three levels of olive oils Ė green and young (fresh peppery flavours), older olives with a bit more roundedness to the mouth and a batch made from 180 year old trees (I have yet to taste this, but itís one to get surely!). Note to self: remember to order some olive oil from Domenic when my kitchen is dry, which is now as I was reminded of last night. We were asked if we had drank through the Longhop line and after I replied that I was familiar with the Frost Dodger stuff, Domenic very kindly offered us three bottles: the Longhop Old Vine Reserve, Longhop Grenache Reserve and the Old Plains Power of One to have over dinner.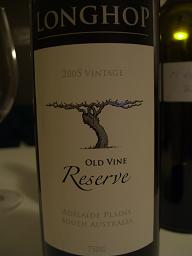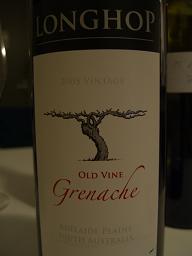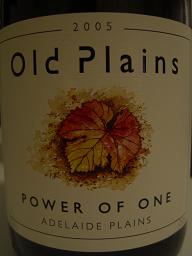 Dinner was back in the city at an Italian home-styled restaurant of no consequence where we consumed the remainder of the Massena, Distinction and opened the Old Vine Reserve.
2005 Longhop Old Vine Reserve ($29 at Cloudwine) Ė a blend of 65% cabernet sauvignon and 35% shiraz with fruit sourced from the oldest vines of the Adelaide Plains (1950s), the low yields resulting in a production of only 300 cases. Dark purple in colour with a murky edge, thereís the obvious overt nose of herbiness imparted by the cab sauv with deep dark fruits. Perhaps it is a little too early to drink this? Because I felt the alcohol abit too strong for me, burnt my nose. Silky texture and a generous mouth, this is a medium-full bodied wine that leaves a warm aftertaste on the mid palate that dissipates quite quickly. The caveat to my note is that by that point, I had tasted quite a few softer styled wines. 89-90/100
---
This is my site where I show off that I do in the scant abundance of spare time that I have back in my apartment. The views expressed on this page are exclusively my own, unless otherwise stated. An offence caused is regretted, and will be retracted if, after discussion, is deemed reasonable. If you want to pass any snide comments or insults, bring it on!