Simple pallets, Seriously
I wouldn't drink that… (Part 4)
Upon Jason's call, and after a lunchbreak at Thorne-Clarke, we called upon the small 1-man operation of David Franz (Peter Lehmann's son, and David's old school chum). David has his air-conditioned shed right next to his home somewhere between Veritas and Langmeil, and is thoroughly involved in churning out ~1500 cases each year. Most of the grapes come from surrounding vineyards, with some grenache from Schwarz. Accompanied by Westy, Georgie and sunnies-chewing Frank, David was in the midst of his daily flushes through of some Cab crushes as we pulled up. The juice is sucked from the bottom, through a -10 chiller, and evenly sprayed over the top layers of fruit. No guesses whose fault it is if this year's stuff doesn't come out as clean as they should!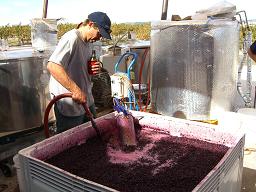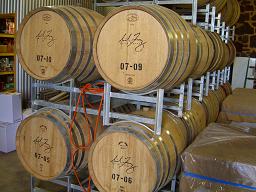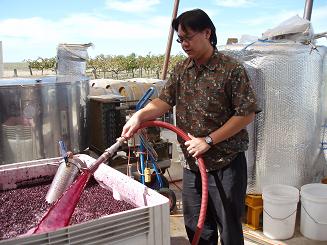 David produces 4 wines, but the majority is destined for the foreign market. We opened with the 2004 Rose while we were dirtying out hands helping out with the flush throughs. This is not your usual light-styled rose (good to compare this with the Epsilon Rose) and is not a simple drink. Building on a balanced structure are layer upon layer of different amoras and flavours, finishing with a semi-dryish aftertaste. And no wonder, as David tells us that this blend originates from a parcel that used to be a nursery block, hence the multiple varietals. The almost exact full list of what goes into the bottle is hand printed onto the bottle for those who have the fortune of checking this unique beauty out. Very nice, eye opening style. Retails for $21, 92+.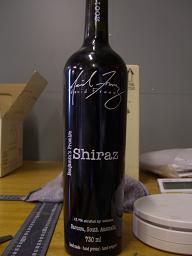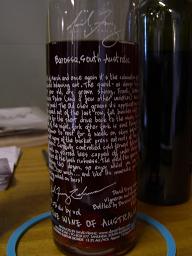 Next came three reds, and note that these will be/are the latest releases despite being 01s as they are left in bottle for a period before hitting the shelves for $42.
(Notes are as scant as you see them here, we were having too much fun chatting and pushing vats around)
2001 Cab Sauv/Shiraz: Slight herbiness of CS, melds very well with the flavours of shiraz. medium bodied wine.
2001 Benjamin shiraz:
2002 shiraz: medium bodied shiraz.
There is also a 50 yr old tawny port (base material from Peter Lehmann's and is topped up every 3 years or so) Rich raisiny nose, spicey feel on the mouth. But I feel it abit lacking on the finish, 88-89.
From one Dave to another, our final destination was to me, the best looking cellar door in the Barossa (and arguably the best top-end wines), Torbreck. No introductions needed, Scott was at the counter, Dave at the window, let's get into the wines!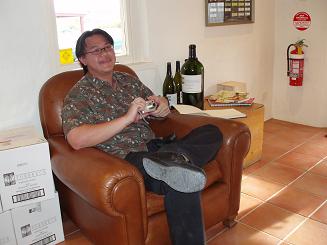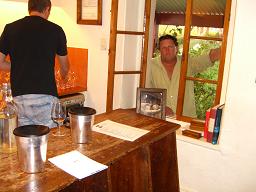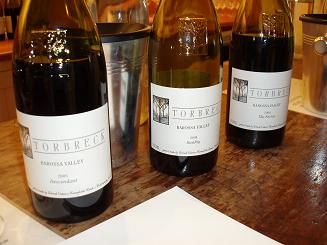 2006 Viognier (new release): 100% viognier, very close to a true condrieu style, good pallet, strong but not excessively overwhelming. Chinese black chicken soup. Good nose. Velvety texture. $48.50, 89-90.
2006 Saignee: 100% mataro, spent 9 months in old french oak. Light rusty red colour, rubbery nose? Savoury red fruit. Good and warm aftertaste but abit hollow? $23.50, 89.
2006 Juveniles: 60% grenache, 20% shiraz, 20% mataro: unwooded, hence the chewy tannins, great for this light rhone style. $25, 92+.
2004 Steading: same % constituents as the Juveniles, but spends 24mths in 6-8 year old barrels. Good balance, across mid-back palate, more supple and textured than Juveniles. Tannin levels very well blanced. $37.50, 92+.
2006 Woodcutters: 100% shiraz, just bottled, tight tannic structure. Good nose, subtle aftertaste. $18.50, 90.
2005 Struie: 100% shiraz sourced from the Barossa and 30% Eden Valley. Great structure and good firm tannins! $48.50, 94.
2005 The Gask (new release): 100% shiraz from a single Eden Valley vineyard, typical of a cool climate shiraz, spicey, a savoury nose, fresh mouthful of fruit and reminiscent of a little bit of cab sauv. Firm tannins, great length. $75, 94-96.
2004 The Celts: 100% shiraz, sees 2 years of new oak. Good balance of tannins and alcohol, nice nose of fruits, plum, not entirely overpowering. Finish ~20-30sec. Excellent. Better than previous vintage. Cellar door-only, $75.
2004 Factor: bit more tannic than previous years which is expected for a new release. Elegant, fine feel to the palate, taste-wise almost as good as the 2002. $125, 94-96.
2005 Descendant: great fragrence, tight tannic structure, not fully integrated yet? $125, 94-96.
2004 RunRig: the 5% viognier show off abit too much for me, besides that, all else is normal for this most perfect drink, the usual good feel it brings to me as it's flavours consume my mouth, and leaves me amazed during the 30-40sec aftertaste. $225, 97.
2004 Pict: 100% mataro in 2years new french oak. Rhone flavours, slight gamey notes. tobacco (light) taste, tannins slightly higher? light to medium bodied wine. Good overall balance but lacks a solid palate in my mind. $187.50, 92-94.
Interesting mention about RP and the 'new' guy Jay Miller (my idol for his indulgences in foie gras), they'll be down for tastings in June. Last year, Dave flew into DC the day before the tasting with RP (held at his favourite restaurant - the one with soft shell crabs) over ~1hr, which is followed by a 3hr lunch. Wines are double decanted as well as straight out of the bottle.
---
This is my site where I show off that I do in the scant abundance of spare time that I have back in my apartment. The views expressed on this page are exclusively my own, unless otherwise stated. An offence caused is regretted, and will be retracted if, after discussion, is deemed reasonable. If you want to pass any snide comments or insults, bring it on!