Simple pallets, Seriously
I wouldn't drink that… (Part 1)
I am not a snob… well, I try hard not to be too obvious. Of course, despite my efforts, carrying around bottles of Sine Qua Non in the student room doesn't aid my efforts to improve my personality issue. My justifications are practical and personal, but people are just simply drinking the wrong stuff. It's fine if you like what you're quaffing and perhaps some/most are reined by their pocketbook constraints, but I think that a fair three-quarters of the wine I see served up… well, to put it nicely, I wouldn't drink them.
I can't remember when I was last this excited as I barreled into the Barossa over the past Easter weekend. Sans parents, and it's not that I've not enjoyed previous trips with them, but I had always felt the need and responsibility to keep them minimally involved (with the odd picturesque photo opportunity thrown in), just to avoid the potential bouts of boredom and tiredness one could foreseeably be overcome by while admiring the beauty of staring into open vats and realising the amount of gunk that dies/floats in them. I had two appointments lined up with two of the hottest (not in the physical sense) winemakers in the southern hemisphere (hah! International non-US wineos eat yer hearts out!), and I was very much looking forward to learning more about their philosophies and approaches between the very contrasting wines they put out (well, I would've been happy just to be simply standing next to them). Standish and the Mollydookers need no introduction (if you do, then google is your answer) to those familiar with the US market (yes, the U-S market). Due to my initial excitement, I was guilty of forgetting about the little people, the smaller producers who make the most exceptional, truest and tasty stuff that would reflect their personal tastes and style. However, as events progressed, I was able to touch base with several other exceptional winemakers and I must state that I am sincerely appreciative of their time since it was the middle of vintage and some of those calls were last minute.
Just a quick note, I did not scribble scores for all of the wines I tasted, in fact I've forgotten some of the wines I had (not because they were bad; there were no bad wines at all!). But I won't include retrospective scores, and given that this is my first proper experience doing barrel tastings, take them for whatever you think they'd be worth.
The Barossa vintage festival had just kicked off and is supposedly the longest running festival in Australia (60+ years?, the bong fests don't count since strictly speaking you do need it to be a public event and should be legal on all counts). But it was quite evident early on that everyone in the town of Lyndock was just taking the opportunity for a sleep-in. Despite Saturday being a working day, being sandwiched between a public holiday and a sunday, might as well take the day off too! We got into town early morning, about 10am, and here's some travel advice: Most cellar doors open at 11am. If you're driving up to the Barossa from Adelaide, there's no need to rush. You can take your time and aim to leave the city by 9.30am. That way, you've got a relaxing drive (not that there's any nice scenery anyway), you'll be through Gawler and into Lyndock by 10.30-11am.
Schild Estate in a corner of Lyndock opens early, and that's where we stopped first since Rockford and Glaetzer were closed (the latter is only because they're completely sold out at the moment, is Ben even in town now?). Schild Estate has ample parking space, a trellised frontage and a modernesque cellar door with merchandise in a corner. The 2006 Frontignac was lean and stingy with its ripe pear and floral smells 89/100. The 2006 GMS was fragrant, with a nose of carpeted red berries trailing into a light and peppery aftertaste 89/100. The 2005 merlot was interesting with silky tannins and mulberries 91/100, but the 03 Cab Sauv was too herby for my liking with a distinct aroma of tomato and sweet capsicum 88/100. The 2005 Shiraz was too weak, maybe the weakest character of any 05 shirazes I've had so far 86/100, and the 2005 Ben Schild reserve had too much fruitiness to it, making it too sweet and forthcoming, hence masking any undertones or tannins that might have been there NR. Still, their range goes from $14 - $35, so I suppose for a casual drink, I can see people picking up some of their stuff. I'm in no rush.
Needing an immediate, severe pick-me-up, I dialed up Dan Standish who promptly crushed my world by forgetting about our appointment. Geez man! You've got to make it up to me by allocating a case each of the upcoming Shiraz and Relic. But Dan was nice enough to get us in touch with Jaysen Collins who is his partner in crime at Massena, so we were off down a bumpy dirt trail onto an ex-Torbreck facility (05 Factor barrels still on-site).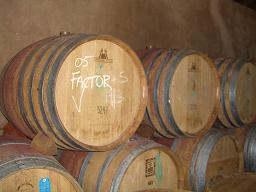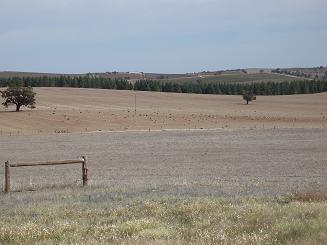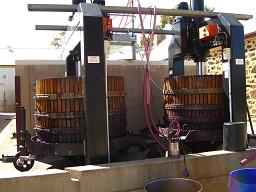 There aren't any vineyards around the property, just brownish grass plains and the occasional wandering flock of sheep. Jaysen holds a great cheery smile under the what-was-once-white cap and he walked us through the open vats sitting next to their basket presses, which we peered into, and were excited to see actual grapes and not just a swarm of bees and flies. Jaysen pointed out that they pick on ripeness and not on baume, which essentially meant that their fruit were on vines for longer than the bigger companies which panicked and started harvest 3-4 weeks earlier. They're developing the two-room stone building into a cellar door (I'm sure the only decent bit of furniture in the form of a round wood table will feature prominently) and certainly look forward to revisiting when it's completed later this year. Jaysen and Dan muck their fingers in Massena and the lower-priced Epsilon line without too much handholding or double dipping since each is confident enough of the others' unquestionable ability and sense of direction.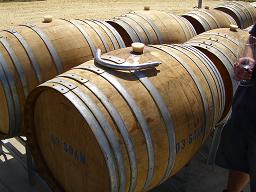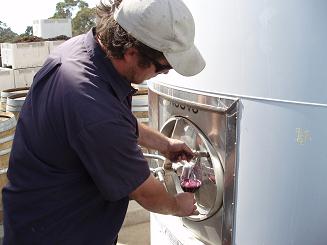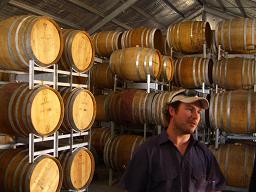 We had a pour of the 2007 Viognier from Adelaide Hills which was my first experience with fresh pressed juice. It had a cloudy, murky appearance, looking remarkably like that bottle of fresh apple juice that you forgot on the balcony after a week of hot sun. But this was fantastic stuff! The juice was really sweet (unadulterated grape juice), crisp, fresh and very aromatic. 92/100 We then tried some Greenock Viognier which had just gone through a chiller. Very nice too, and had a cleaner look since it had been given some extra time to settle down. We then had some 2007 shiraz out of the chillers which takes them to about 0ºC; pretty raw stuff (remember that milk glass that you didn't wash?) but an undeniable structure and flavours were starting to build up.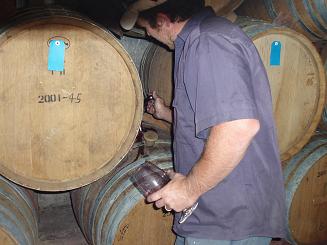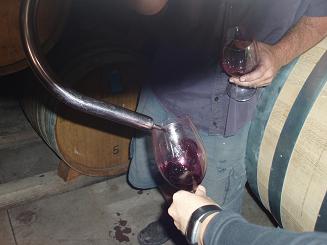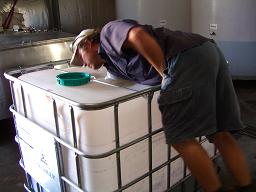 On to the barrels for some of the 2006 fruit that would go into the Massena lines. The Kalleske Grenache was a beauty, firm structure to go along with solid tannins and acidity. Jaysen reached into a vat containing a very interesting durif/viognier blend - in my opinion, an experiment certainly worth giving a go. I think shiraz/viognier blends are being done to death, but durif is an alternative that imparts the big tannins and dryness so if you have a strong fruity viognier (or using a higher percentage in the blend), it could definitely work together. I'm definitely in it for some of this once it hits the shelves. (90-92)/100
Went back into the stone cottage for some Massena 2005 The Eleventh Hour and Epsilon 2006 Rose. The Massena 11th Hour had a blood red crimson hue and exuded notes of earthy raspberry. It had a silky texture with broad sweeping flavours, and the residue made me salivate as the secondary flavours of roasted chocolate started kicking in. 94-96/100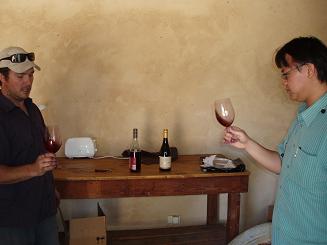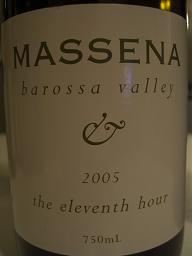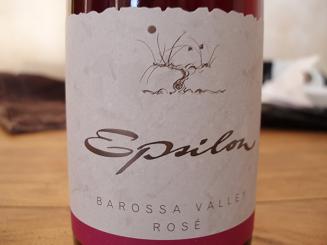 The Epsilon Rose is made in a bigger style than the usual summer roses. Lots of fruity flavours with a firm dry aftertaste, and the current winter sunshine would be the perfect backdrop for busting a bottle of this!
I commented how the Massena bottles were uniquely shaped, and markedly similar to the ones used by Spinifex, and surprise surprise, they are indeed identical to the ones Peter Schell uses. In the recent year, a few of these excellent enterprises have come together to form the 'Artisans of the Barossa' and one of the achievements of this conglomerate was to make collective bulk purchases of wine bottles. Jaysen put out a call to Peter Schell who unluckily for us had just finished work and had family in town, so we weren't going to catch him that day or the rest of the weekend. I did get a call from Domenic Torzi (more later) about our appointment for the day, and since he was done with pressings for the morning, and had errands to run, we made a time for the late afternoon.
After lunch in Tanunda and a brief stopover at Langmeil, we were due at Damien Tscharke's tin shack... (continue reading Part 2)
---
This is my site where I show off that I do in the scant abundance of spare time that I have back in my apartment. The views expressed on this page are exclusively my own, unless otherwise stated. An offence caused is regretted, and will be retracted if, after discussion, is deemed reasonable. If you want to pass any snide comments or insults, bring it on!