Saturday April 29th 2007
Bottles have been few and far between in the recent times. However, the weekend rains heralded a trickle of purple grog but certainly not a signal for the opening of floodgates.
2004 Epsilon Barossa Valley Coalsack Shiraz: Fruit for this creation of Jaysen Collins & Dan Standish was sourced from the Southern family vineyard who have their roots firmly in Barossan history. Aged in old french barrels, it presents as a pure embodiment of the fruit and straight-forward wine making style. Notes of wild strawberry and white summer flower, the 15% alcohol is completely masked by the aromatic nature, almost akin to a grenache style. Light-medium bodied wine has clear raspberry flavours with subtle tannins mingled inbetween the simple chewiness. For $22-4, a very nice drink! 92/100
Monday April 9th 2007: I wouldn't drink that (Part 4) - David Franz & Dave Powell (Torbreck)
Upon Jason's call, and after a lunchbreak at Thorne-Clarke, we called upon the small 1-man operation of David Franz (Peter Lehmann's son, and David's old school chum). David has his air-conditioned shed right next to his home somewhere between Veritas and Langmeil, and is thoroughly involved in churning out ~1500 cases each year. Most of the grapes come from surrounding vineyards, with some grenache from Schwarz. Accompanied by Westy, Georgie and sunnies-chewing Frank, David was in the midst of his daily flushes through of some Cab crushes as we pulled up. The juice is sucked from the bottom, through a -10 chiller, and evenly sprayed over the top layers of fruit. No guesses whose fault it is if this year's stuff doesn't come out as clean as they should!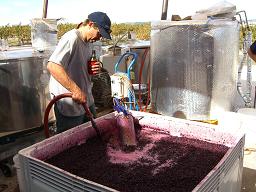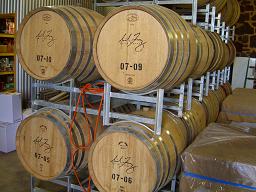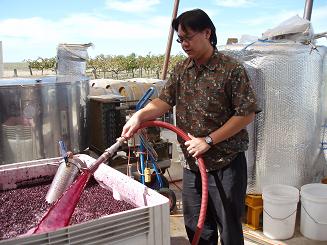 David produces 4 wines, but the majority is destined for the foreign market. We opened with the 2004 Rose while we were dirtying out hands helping out with the flush throughs. This is not your usual light-styled rose (good to compare this with the Epsilon Rose) and is not a simple drink. Building on a balanced structure are layer upon layer of different amoras and flavours, finishing with a semi-dryish aftertaste. And no wonder, as David tells us that this blend originates from a parcel that used to be a nursery block, hence the multiple varietals. The almost exact full list of what goes into the bottle is hand printed onto the bottle for those who have the fortune of checking this unique beauty out. Very nice, eye opening style. Retails for $21, 92+.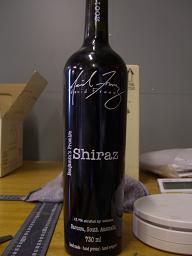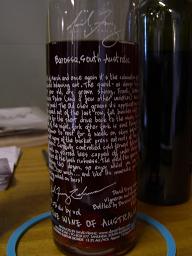 Next came three reds, and note that these will be/are the latest releases despite being 01s as they are left in bottle for a period before hitting the shelves for $42.
(Notes are as scant as you see them here, we were having too much fun chatting and pushing vats around)
2001 Cab Sauv/Shiraz: Slight herbiness of CS, melds very well with the flavours of shiraz. medium bodied wine.
2001 Benjamin shiraz:
2002 shiraz: medium bodied shiraz.
There is also a 50 yr old tawny port (base material from Peter Lehmann's and is topped up every 3 years or so) Rich raisiny nose, spicey feel on the mouth. But I feel it abit lacking on the finish, 88-89.
From one Dave to another, our final destination was to me, the best looking cellar door in the Barossa (and arguably the best top-end wines), Torbreck. No introductions needed, Scott was at the counter, Dave at the window, let's get into the wines!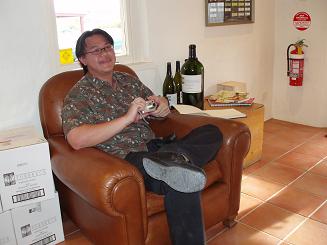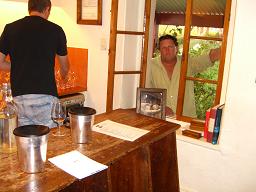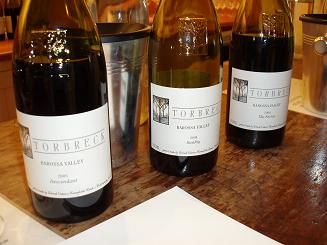 2006 Viognier (new release): 100% viognier, very close to a true condrieu style, good pallet, strong but not excessively overwhelming. Chinese black chicken soup. Good nose. Velvety texture. $48.50, 89-90.
2006 Saignee: 100% mataro, spent 9 months in old french oak. Light rusty red colour, rubbery nose? Savoury red fruit. Good and warm aftertaste but abit hollow? $23.50, 89.
2006 Juveniles: 60% grenache, 20% shiraz, 20% mataro: unwooded, hence the chewy tannins, great for this light rhone style. $25, 92+.
2004 Steading: same % constituents as the Juveniles, but spends 24mths in 6-8 year old barrels. Good balance, across mid-back palate, more supple and textured than Juveniles. Tannin levels very well blanced. $37.50, 92+.
2006 Woodcutters: 100% shiraz, just bottled, tight tannic structure. Good nose, subtle aftertaste. $18.50, 90.
2005 Struie: 100% shiraz sourced from the Barossa and 30% Eden Valley. Great structure and good firm tannins! $48.50, 94.
2005 The Gask (new release): 100% shiraz from a single Eden Valley vineyard, typical of a cool climate shiraz, spicey, a savoury nose, fresh mouthful of fruit and reminiscent of a little bit of cab sauv. Firm tannins, great length. $75, 94-96.
2004 The Celts: 100% shiraz, sees 2 years of new oak. Good balance of tannins and alcohol, nice nose of fruits, plum, not entirely overpowering. Finish ~20-30sec. Excellent. Better than previous vintage. Cellar door-only, $75.
2004 Factor: bit more tannic than previous years which is expected for a new release. Elegant, fine feel to the palate, taste-wise almost as good as the 2002. $125, 94-96.
2005 Descendant: great fragrence, tight tannic structure, not fully integrated yet? $125, 94-96.
2004 RunRig: the 5% viognier show off abit too much for me, besides that, all else is normal for this most perfect drink, the usual good feel it brings to me as it's flavours consume my mouth, and leaves me amazed during the 30-40sec aftertaste. $225, 97.
2004 Pict: 100% mataro in 2years new french oak. Rhone flavours, slight gamey notes. tobacco (light) taste, tannins slightly higher? light to medium bodied wine. Good overall balance but lacks a solid palate in my mind. $187.50, 92-94.
Interesting mention about RP and the 'new' guy Jay Miller (my idol for his indulgences in foie gras), they'll be down for tastings in June. Last year, Dave flew into DC the day before the tasting with RP (held at his favourite restaurant - the one with soft shell crabs) over ~1hr, which is followed by a 3hr lunch. Wines are double decanted as well as straight out of the bottle.
Monday April 9th 2007: I wouldn't drink that (Part 3) - Jason Schwarz (Schwarz Wine Co.)
(Portions of the following have been snipped, refer to link to Part 3 for the full text)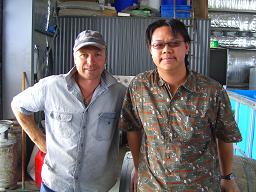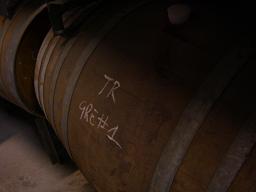 2006 Thiele Rd Grenache Ė Aromatic! Bit tight and acidic presently, but will be good! 94+
2006 [destination unknown] Cabernet Sauvignon Ė slight herbiness, good structure. 90+
2006 [destination unknown] Mouverde Ė exotic flavours, would be interesting if this was blended with the cab sauv.
2006 shiraz from Schiller block Ė good stuff, acidity slight high at the moment hence the more robust flavours across the palate.
2006 Nitchke Block Shiraz Ė tannic, fresh structure
Blend of 3 blocks of shiraz [destination unknown] Ė most exciting shiraz of the day! Fruity, straight down the palate, lovely! Would like to see this bottled on its own. 95+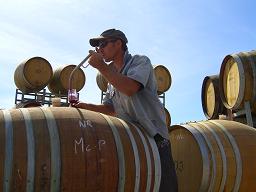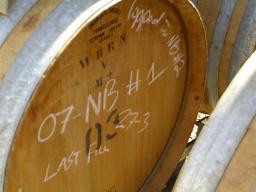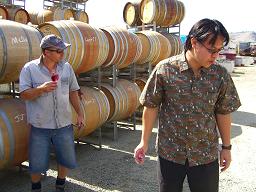 2007 grenache Ė raw and bland.. not a fantastic year.
2007 Nitchke Block Shiraz Ė tight.
2007 cabernet sauvignon Ė tight, more greenish than the 06.
Saturday April 7th 2007: I wouldnít drink that (Part 2) - Damien Tscharke & Domenic Torzi
(Portions of the following have been snipped, refer to link to Part 2 for the full text)
After lunch in Tanunda and a quick stopover at Langmeil, we were due at Damien Tscharkeís tin shack which, oddly enough, I was actually driving past when I first called Damien last september. I had no idea that the non-descript aluminium building was the non-existent cellar door before the Two Hands turn-off that I had been looking out for or the fruitcake liquidator workshop as Iím inclined to call it from now on because of my opinion that the Glaymond Landlace is masticated fruitcake in a bottle. Also previously, I didnít know that he was THE Damien of Damien Tscharke since last names werenít all that important back then and I was only searching him out due to my curiosity and interest in the Glaymond line; but I know better now. So obviously, as if the name wasnít a dead giveaway already, the Tscharke line originates from the same whiz and is worked for varietals not commonly associated with the Barossa, such as Albarino, Zinfandal and Montepulciano. Damienís work area is an impressive area resembling a storage facility, with the main processing space in the front half, and the barrels and tanks behind. No time wasting here! It was straight to the back for some barrel tastings.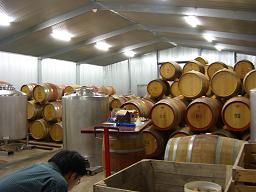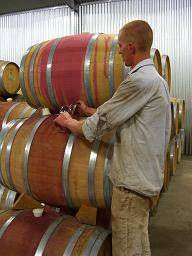 2005?6 Cab Sauv (is this going towards the As If?) Dark purple colour, with rich aromas and layers of flavours buried which I have no doubt will be shaken out of their shackles with age. Clean presence in the mouth with a neat structure of silky tannins, balanced acidity and alcohol. 92/100
2005 Distinction Reserve Shiraz Ė Only 2 weeks in the bottle and at a staggering 16.8%? alcohol, itís amazing how sheer opulence can be amalgamated into a perfumed silky stocking of elegance, and held together in a body as tight as shiraz as has been achieved in this 2005 shiraz. Dark dense purple colour with a red edge, thereís a subtle mesh of blueberry, spicy chocolate roast. Silky texture, with compact tannins leaves the mouth bursting with flavours, concentrating on the front and mid palate, finishing with an aftertaste that goes for 20secs. This is the one to prove all who hold the stereotypic impression that barossan shirazes are ungainly lumbering alcoholic giants. Damien envisages this wine to be the epitome of all he has produced so far and as close as possible to the perfect wine in his mind. Heíll also be having 12 of these stashed in his personal museum collection to show his son what a perfect drink is. Hence, itís a downright shame that most of this is bound for the foreign market. I donít know what this is retailing for, but heck, when he thinks itís that good, Iím having me a dozen out the backdoor! 97+/100
VP 2007 Made from the nacional variety that goes into official Portugal ports and still in the metal vats after having just been brandy-fied, the 2007 VP will spend 5 years before seeing the light of day. Damien has the view that 2-3 years is simply too short a time for vintage ports to be bottle and that the extended period of time this spends sitting, even in bottle, will only serve to enhance its characteristics. I was amazed at how pleasantly drinkable this infant is! Only 2 weeks old and still existing as a dark purple tarry broth, perfumed aromas wafted from the glass accompanied by a strong balanced see-saw of brooding flavours. 94-96/100
Domenic Torzi is a personable, stocky guy with Italian blood, and my first experience with him was nothing but positive when he offered to send me two bottles of the 03 and 04 Frost Dodger Shiraz following a less than flattering personal opinion of an 03. I thought Iíd mention that he posts every now and then on a local South Australian wine forum in case anyone would like to communicate with him.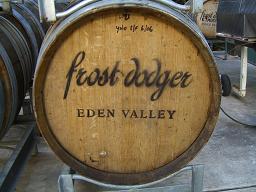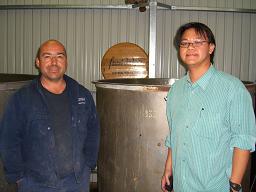 Domenic dabbles with the Torzi Matthews, Old Plains and Longhops lines, some/all of which are available for tasting at the valleytastings? outlet in Angaston. In addition, he also does three levels of olive oils Ė green and young (fresh peppery flavours), older olives with a bit more roundedness to the mouth and a batch made from 180 year old trees (I have yet to taste this, but itís one to get surely!). We were asked if we had drank through the Longhop line and after I replied that I was familiar with the Frost Dodger stuff, Domenic very kindly offered us three bottles: the Longhop Old Vine Reserve, Longhop Grenache Reserve and the Old Plains Power of One to have over dinner.
Saturday April 7th 2007: I wouldnít drink that (Part 1) - Schild Estate & Jaysen Collins
(Portions of the following have been snipped, refer to link to Part 1 for the full text)
Schild Estate in a corner of Lyndock opens early, and thatís where we stopped first since Rockford and Glaetzer were closed (the latter is only because theyíre completely sold out at the moment, is Ben even in town now?). Schild Estate has ample parking space, a trellised frontage and a modernesque cellar door with merchandise in a corner. The 2006 Frontignac was lean and stingy with its ripe pear and floral smells 89/100. The 2006 GMS was fragrant, with a nose of carpeted red berries trailing into a light and peppery aftertaste 89/100. The 2005 merlot was interesting with silky tannins and mulberries 91/100, but the 03 Cab Sauv was too herby for my liking with a distinct aroma of tomato and sweet capsicum 88/100. The 2005 Shiraz was too weak, maybe the weakest character of any 05 shirazes Iíve had so far 86/100, and the 2005 Ben Schild reserve had too much fruitiness to it, making it too sweet and forthcoming, hence masking any undertones or tannins that might have been there NR. Still, their range goes from $14 - $35, so I suppose for a casual drink, I can see people picking up some of their stuff. Iím in no rush.
Needing an immediate, severe pick-me-up, I dialed up Dan Standish who promptly crushed my world by forgetting about our appointment. Geez man! Youíve got to make it up to me by allocating a case each of the upcoming Shiraz and Relic. But Dan was nice enough to get us in touch with Jaysen Collins who is his partner in crime at Massena, so we were off down a bumpy dirt trail onto an ex-Torbreck facility (05 Factor barrels still on-site).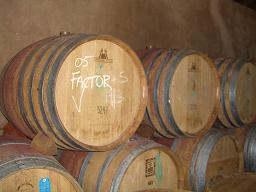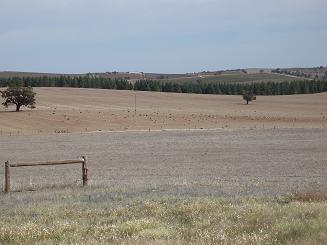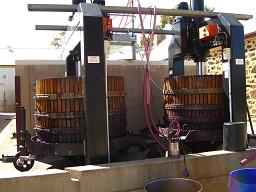 There arenít any vineyards around the property, just brownish grass plains and the occasional wandering flock of sheep. Jaysen holds a great cheery smile under the what-was-once-white cap and he walked us through the open vats sitting next to their basket presses, which we peered into, and were excited to see actual grapes and not just a swarm of bees and flies. Jaysen pointed out that they pick on ripeness and not on baume, which essentially meant that their fruit were on vines for longer than the bigger companies which panicked and started harvest 3-4 weeks earlier. Theyíre developing the two-room stone building into a cellar door (Iím sure the only decent bit of furniture in the form of a round wood table will feature prominently) and certainly look forward to revisiting when itís completed later this year. Jaysen and Dan muck their fingers in Massena and the lower-priced Epsilon line without too much handholding or double dipping since each is confident enough of the othersí unquestionable ability and sense of direction.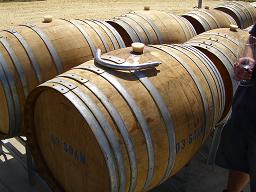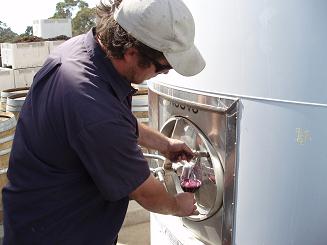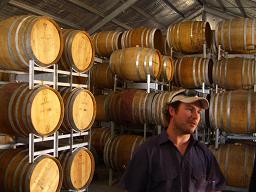 We had a pour of the 2007 Viognier from Adelaide Hills which was my first experience with fresh pressed juice. It had a cloudy, murky appearance, looking remarkably like that bottle of fresh apple juice that you forgot on the balcony after a week of hot sun. But this was fantastic stuff! The juice was really sweet (unadulterated grape juice), crisp, fresh and very aromatic. 92/100 We then tried some Greenock Viognier which had just gone through a chiller. Very nice too, and had a cleaner look since it had been given some extra time to settle down. We then had some 2007 shiraz out of the chillers which takes them to about 0ļC; pretty raw stuff (remember that milk glass that you didnít wash?) but an undeniable structure and flavours were starting to build up.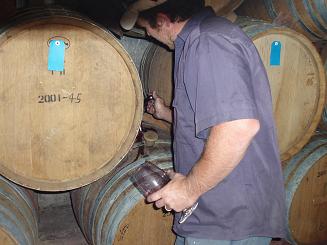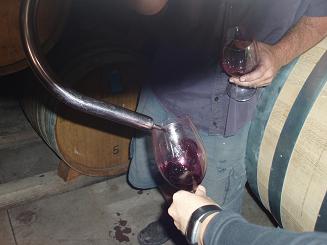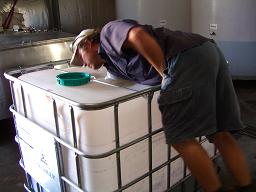 On to the barrels for some of the 2006 fruit that would go into the Massena lines. The Kalleske Grenache was a beauty, firm structure to go along with solid tannins and acidity. Jaysen reached into a vat containing a very interesting durif/viognier blend - in my opinion, an experiment certainly worth giving a go. I think shiraz/viognier blends are being done to death, but durif is an alternative that imparts the big tannins and dryness so if you have a strong fruity viognier (or using a higher percentage in the blend), it could definitely work together. Iím definitely in it for some of this once it hits the shelves. (90-92)/100
Went back into the stone cottage for some Massena 2005 The Eleventh Hour and Epsilon 2006 Rose. The Massena 11th Hour had a blood red crimson hue and exuded notes of earthy raspberry. It had a silky texture with broad sweeping flavours, and the residue made me salivate as the secondary flavours of roasted chocolate started kicking in. 94-96/100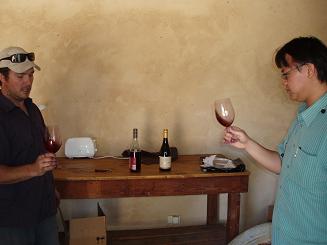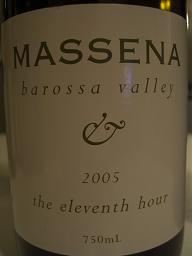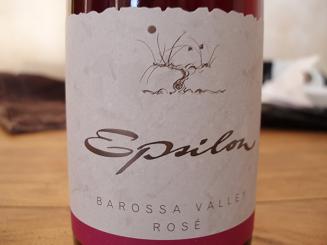 The Epsilon Rose is made in a bigger style than the usual summer roses. Lots of fruity flavours with a firm dry aftertaste, and the current winter sunshine would be the perfect backdrop for busting a bottle of this!
Making space in the cellar (Part 2)
A lot of sediment in the bottle. Dark raspberry concentrate colour, nose of vanillin oak and spice with abit of alcohol burn. Velvety texture, lean structure with tannins concentrated tot hemiddle back of the palate. Bit of spicey tinge on tip of tongue. Aftertaste lacking somewhat, hollow taste of the end. Lacks character. 88/100

Next day, there's nothing noteworthy left.
5th April 2007 aka making space in the cellar
Not much of a start to April, but two bottles to start of a weekend of grape juicing down in SA. I'll be going through the Barossa and McLaren Vale, visiting various vineyards and winemakers.
| | |
| --- | --- |
| | The Kay Bros Hillside is the second tier shiraz to the Block 6. The 2003 exudes notes of toasty american oak. Slightly on the stronger side of medium bodied, with 15% alcohol, it has a good structure with no nasty tannins and is a chewy drink. 92/100 |
| The 2004 Turkey Flat Shiraz is a sweet new car in a bottle! Notes of sweet blackberries slip from the glass with a distinct smell of leather. Full-bodied, it has a robust character with silky tannins and a good lengthed aftertaste. 94/100 | |